Nutritional Info
Servings Per Recipe: 1
Amount Per Serving

Calories: 129.8
Total Fat:

3.4 g

Cholesterol:

0.0 mg

Sodium:

398.9 mg

Total Carbs:

26.0 g

Dietary Fiber:

9.5 g

Protein:

7.4 g
Report Inappropriate Recipe
Healthy Homemade Pita Chips
Submitted by: JSKASICK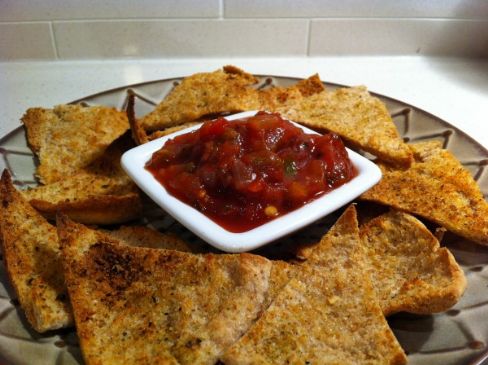 Introduction
modified from:
http://crazygirleats.com/2
012/01/18/healthy-homemade
-pita-chips/
modified from:
http://crazygirleats.com/2
012/01/18/healthy-homemade
-pita-chips/
Ingredients
1 Weight Watcher Pita




1/2 tsp of extra virgin olive oil




1 tbsp Mrs. Dash salt-free garlic and herb spice




Dash seasoning salt




2 tbsp salsa (around 20 calories per serving)
Tips
Directions
1. Take pita and cut into 8 triangles. Unfold and split the triangles for a full 16 pieces.
2. Brush the chips with oil. Then sprinkle the pitas with the salt free garlic and herb spice and a light sprinkle of seasoning salt.
3. Bake the chips for 6 mins at 400 degrees in the oven.

Serving Size: Makes 1 serving

Number of Servings: 1

Recipe submitted by SparkPeople user JSKASICK.


Rate This Recipe