Nutritional Info
Servings Per Recipe: 10
Amount Per Serving

Calories: 67.7
Total Fat:

0.5 g

Cholesterol:

0.0 mg

Sodium:

209.1 mg

Total Carbs:

14.6 g

Dietary Fiber:

5.1 g

Protein:

3.8 g
Report Inappropriate Recipe
Stir Fry Vegetables
Submitted by: TOODYAYDHS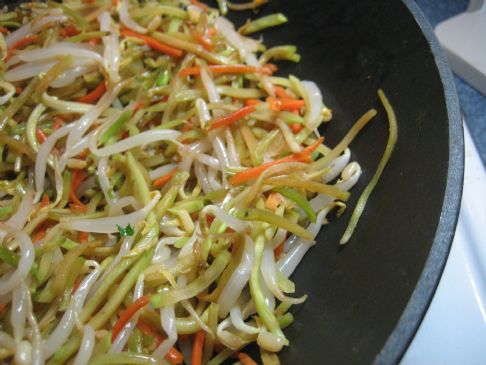 Introduction
This is a very healthy stir fry, that only uses a spray on cannola oil
This is a very healthy stir fry, that only uses a spray on cannola oil
Ingredients
1 Cauliflower




4 Carrots




6 Sticks of celery




1/2 Cabbage




300g Bean sprouts




2 Onions




2 tsp Crushed garlic




2 tsp Minced ginger




1 Tbsp Soy sauce
Tips
Stir frys are an excellent way to experiment with vegetables. Once the stir fry is done, you can accompany this low fat dinner recipe with a nice basmati rice.
Directions
1. Dice the cauliflower and the carrots.
2. Slice the celery into thin slices and shred the cabbage
3. Spray cannola oil on a large nonstick frying pan and heat.
4. Add the onion (finely chopped), garlic and ginger and fry for about 3 minutes.
5. Add the rest of the vegetables, and stir in the soy sauce.
6. Continue cooking until the vegetables are tender, but crunchy.

Serving Size: Serves 10 as a Side Dish

Number of Servings: 10

Recipe submitted by SparkPeople user TOODYAYDHS.


Rate This Recipe