Nutritional Info
Servings Per Recipe: 4
Amount Per Serving

Calories: 228.9
Total Fat:

16.0 g

Cholesterol:

1.5 mg

Sodium:

386.0 mg

Total Carbs:

15.2 g

Dietary Fiber:

2.3 g

Protein:

7.6 g
Report Inappropriate Recipe
Brittnie's Vegan Peanut Butter Cookies
Submitted by: STARLADY174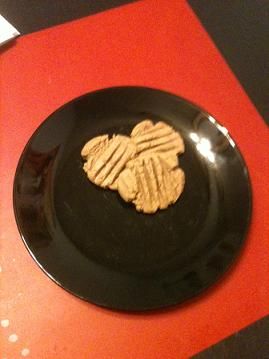 Introduction
I modified Chocolate-Covered Katie's recipe to use ingredients that I had at home, including lower sugar options.

Thanks, Katie! Here is her original recipe:

http://chocolat
ecoveredkatie.com/2011/12/
11/secret-peanut-butter-cookies/
I modified Chocolate-Covered Katie's recipe to use ingredients that I had at home, including lower sugar options.

Thanks, Katie! Here is her original recipe:

http://chocolat
ecoveredkatie.com/2011/12/
11/secret-peanut-butter-cookies/
Ingredients
Dry Ingredients:




*Baking Soda, .75 tsp




*Cake Flour - King Arthur, 3 tbsp




*Stevia Extract In The Raw, .25 cup





Wet Ingredients:




*Splenda Brown Sugar Blend, 3 tsp




*Mott's Granny Smith Apple Sauce, 2 tbsp




*Simply Organic Vanilla Extract, 1 tsp




*Skippy Creamy Peanut Butter, .5 cup
Tips
The cookies will be a little crumbly, especially if you don't let them sit after baking. Despite this, they look and taste awesome.
Directions
1) Mix dry ingredients thoroughly.
2) Add wet ingredients and mix well.
3) Refrigerate the dough for about an hour for softer cookies.
4) Preheat the oven to 350 degrees.
5) Form dough balls with about 1 tbsp of dough each, and place them on an ungreased cookie sheet.
6) Press the dough flat with a fork.
7) Bake the cookies for about 8 minutes. They should come out looking slightly undercooked.
8) Let the cookies cool on the baking tray for at least 5 minutes.
9) Enjoy!

Serving Size: Makes 16 cookies (calculated at 4 cookies per serving).


Rate This Recipe