Nutritional Info
Servings Per Recipe: 8
Amount Per Serving
Calories:

103.0
Total Fat:

3.6 g

Cholesterol:

48.9 mg

Sodium:

207.2 mg

Total Carbs:

10.5 g

Dietary Fiber:

1.8 g

Protein:

7.9 g
Report Inappropriate Recipe
Spinach, Onion-Pepper & Feta Quiche (by SHAR261)
Submitted by: SHAR261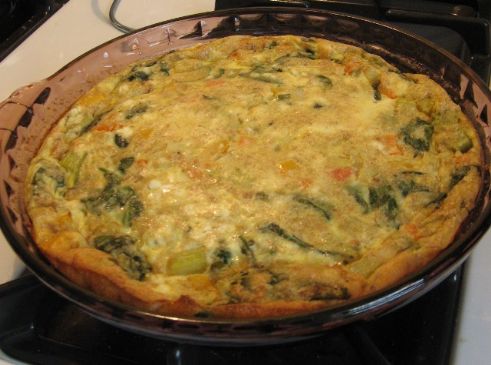 View the original recipe for
Crustless Spinach, Onion and Feta Quiche
Introduction
Technically this is a crustless quiche, but the addition of flour & bacon bits makes for a delicious crusty bottom and sides. I made it as listed here & it was delish! :)
Technically this is a crustless quiche, but the addition of flour & bacon bits makes for a delicious crusty bottom and sides. I made it as listed here & it was delish! :)
Ingredients
1 Tbs Canola oil




1 cup (small) onion, diced




1/2 cup bell peppers, diced (mix of red, green, yellow, or orange)




6-oz fresh baby spinach





2 large eggs




1/2 cup eggbeaters




1/3 cup water




1/2 cup whole wheat flour




1/2 tsp baking powder




1/4 tsp Mrs. Dash Garlic & Herb




1/4 tsp black pepper




1 1/3 cups skim milk




2 Tbs Hormel Bacon Bits





1/2 cup feta cheese, fat-free
Tips
Almond milk or 2 % milk works fine. Could add more veggies & substitute different cheese. Nutrition would need to be re-calculated. For a snack, 1/8 of quiche pie at 103 cal; for breakfast or brunch 1/6 at 137 calories. You may want to have 2 slices! :)
Directions
Preheat oven to 400F.
Lightly grease a 10-inch pie dish, quiche, or tart pan.

Heat a medium frying pan; then heat the oil. Add diced onion & peppers & cook over medium-high heat until translucent and tender. Add in fresh spinach and cook until just wilted. Set aside to cool for a bit.

In a large mixing bowl, whisk together eggs, eggbeater, water, WW flour, baking powder, seasonings. Whisk in milk & bacon bits. Add & stir in the spinach-onion-pepper mixture.

Pour quiche mixture into prepared pan. Sprinkle with feta cheese.

Bake for 25 - 30 minutes, or until center is set and the outside edge is golden brown. Cool at least for 5 minutes, then slice and serve. Store leftovers in fridge or freezer.


Great Stories from around the Web
Rate This Recipe