Nutritional Info
Servings Per Recipe: 6
Amount Per Serving
Calories:

102.1
Total Fat:

6.1 g

Cholesterol:

165.8 mg

Sodium:

219.7 mg

Total Carbs:

2.0 g

Dietary Fiber:

0.2 g

Protein:

8.7 g
Report Inappropriate Recipe
MF brk- Loaded Egg Muffin
Submitted by: KYLAR_STERN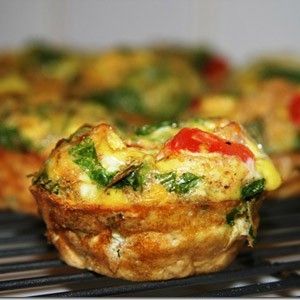 View the original recipe for
Egg Muffins
Introduction
Quick & easy egg muffins to make now and take later!
Quick & easy egg muffins to make now and take later!
Ingredients
5 Large Eggs




4 T salsa




3 Turkey sausage links, cooked thoroughly and diced




(Mine where just the brown and serve variety, so I nuked them to thaw)




1/3 cup 2% shredded cheese




Salsa or hot sauce




1/2 Green bell pepper, chopped




Extra hot sauce or spices if you wish. Garlic and cayenne is good.
Tips
This can be made with really any ingredients you have in the fridge for filler. Bacon, ham, hotdogs. Variety of cheeses and onions/peppers/other veggies too. I just happened to have turkey sausage in the freezer
Directions
Preheat oven to 375 F.
If using a silicone pan, spray well with non-stick spray. If using a regular muffin pan, use 2 liners.

Beat eggs in a bowl.
Add salsa and half of the cheese, stir
Pour evenly into muffin tins filling
Add sausage and diced peppers into each muffin until they are 2/3-3/4 full (they rise a bit)


Bake 25-30 minutes
Add other half of cheese to top of each muffin and place back in oven for about 5 mins for cheese to brown.
Muffins should be slightly browned and set and then they are done

Muffins will keep at least a week in the refrigerator without freezing. Egg muffins can be frozen and reheated. For best results, thaw in refrigerator before reheating. Microwave on high about 1 minute to reheat.


Great Stories from around the Web
Rate This Recipe