Nutritional Info
Servings Per Recipe: 4
Amount Per Serving
Calories:

175.8
Total Fat:

10.6 g

Cholesterol:

79.1 mg

Sodium:

291.0 mg

Total Carbs:

4.1 g

Dietary Fiber:

1.7 g

Protein:

16.4 g
Report Inappropriate Recipe
Your Lighter Side Cauliflower Pizza Crust
Submitted by: NAN111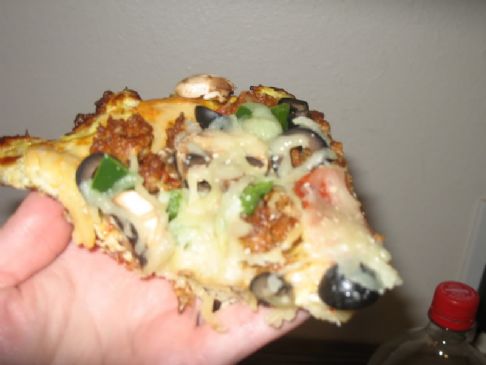 Introduction
A decent alternative to pizza crust for low-carb dieters from www.yourlighterside.com blog (great resource, by the way!)
A decent alternative to pizza crust for low-carb dieters from www.yourlighterside.com blog (great resource, by the way!)
Ingredients
1 cup cooked, riced cauliflower*




1 egg




1 cup mozzarella cheese




1/2 tsp fennel




1 tsp oregano




2 tsp parsley
Tips
*I steamed it and then pureed it in a food processor. Also, I subbed 1 T. or so of Italian seasoning for the ones mentioned here.
Directions
You Wonít Believe itís Cauliflower Pizza Crust

**pizza or alfredo sauce

toppings (make sure meats are cooked)
mozzarella cheese
Preheat oven to 450 degrees Farenheit.

Spray a cookie sheet with non-stick spray or use parchment paper.

In a medium bowl, combine cauliflower, egg and mozzarella. Press evenly on the pan. Sprinkle evenly with fennel, oregano and parsley.

Bake at 450 degrees for 12-15 minutes (15-20 minutes if you double the recipe).

Remove the pan from the oven. To the crust, add sauce, then toppings and cheese.

Place under a broiler (grill for the Europeans) at high heat just until cheese is melted **.

Serving Size: 4 big slices

Number of Servings: 4

Recipe submitted by SparkPeople user NAN111.


Great Stories from around the Web
Rate This Recipe