Nutritional Info
Servings Per Recipe: 5
Amount Per Serving

Calories: 281.6
Total Fat:

11.1 g

Cholesterol:

122.1 mg

Sodium:

1,051.6 mg

Total Carbs:

18.2 g

Dietary Fiber:

1.3 g

Protein:

27.3 g
Report Inappropriate Recipe
Bacon Topped Petite Turkey Meatloaf with BBQ Sauce
Submitted by: JSKASICK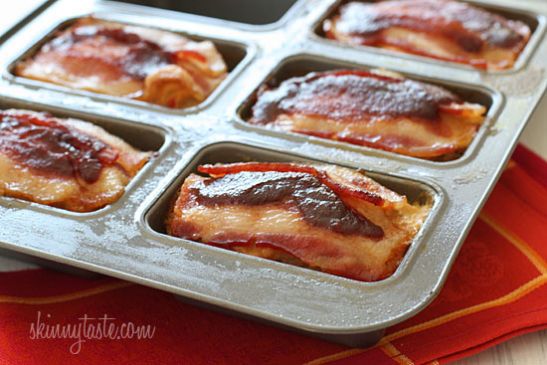 Introduction


adapted from:
http://www.skinnytast
e.com/2012/07/bacon-topped
-petite-turkey-meatloaf.html#more


adapted from:
http://www.skinnytast
e.com/2012/07/bacon-topped
-petite-turkey-meatloaf.html#more
Ingredients
3/4 cup grated zucchini, all moisture squeezed dry with paper towel




2 tbsp onion, minced




2 tbsp diced red pepper




1/2 cup seasoned breadcrumbs




1/4 cup Jack Daniels honey BBQ Sauce




1 large egg




1 tsp smoked paprika




1 tsp kosher salt




20 oz raw 93% lean ground turkey




5 slices center cut bacon, cut in half




2 1/2 tbsp BBQ Sauce
Tips
Directions
Preheat the oven to 350°. Lightly spray a petite loaf pan with oil (if you don't have a petite loaf pan you could use a muffin tin).

In a large bowl, mix the zucchini, onion, red pepper, breadcrumbs, BBQ sauce, egg, paprika and salt. Add the turkey and combine until mixed through.

Create 5 equal loafs and place them into the loaf pan. Place the 2 bacon halves over each loaf and top each with 1/2 tbsp additional BBQ sauce.

Bake about 25 minutes or until cooked through.

Serving Size: Makes 5 servings

Number of Servings: 5

Recipe submitted by SparkPeople user JSKASICK.


Rate This Recipe