Nutritional Info
Servings Per Recipe: 6
Amount Per Serving

Calories: 90.4
Total Fat:

6.9 g

Cholesterol:

0.0 mg

Sodium:

258.0 mg

Total Carbs:

7.3 g

Dietary Fiber:

0.9 g

Protein:

0.6 g
Report Inappropriate Recipe
Asian Ginger Carrot Dressing
Submitted by: JSKASICK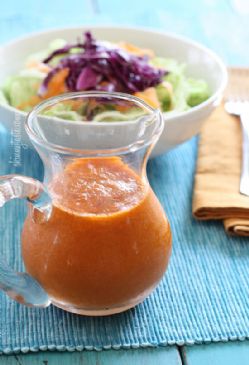 Introduction


adapted from:
http://www.skinnytast
e.com/2012/06/asian-ginger
-carrot-dressing.html#more


adapted from:
http://www.skinnytast
e.com/2012/06/asian-ginger
-carrot-dressing.html#more
Ingredients
1/4 cup shredded carrots




1/4 cup minced onion




1 tbsp minced fresh ginger




1 small clove garlic




1 tbsp minced celery




3 tbsp peanut oil




3 tbsp rice vinegar




2 tbsp water




1 tbsp tomato paste




2 tsp low sodium soy sauce




1 1/2 tsp sugar




1 tsp lemon juice




salt and fresh ground black pepper
Tips
Directions
Place all the ingredient in the blender and process until smooth. Refrigerate a few hours before using to let the flavors deepen. This gets better the longer it sits.

Serve on your favorite salad greens and enjoy!

Serving Size: Makes 3/4 cup

Number of Servings: 6

Recipe submitted by SparkPeople user JSKASICK.


Rate This Recipe