Nutritional Info
Servings Per Recipe: 10
Amount Per Serving

Calories: 353.2
Total Fat:

7.4 g

Cholesterol:

56.0 mg

Sodium:

725.0 mg

Total Carbs:

41.2 g

Dietary Fiber:

3.0 g

Protein:

28.5 g
Report Inappropriate Recipe
Chicken and Rice
Submitted by: CATSPAW65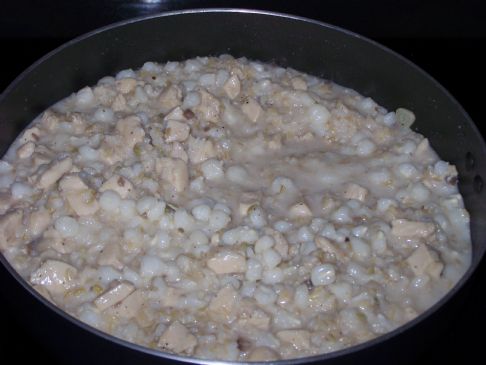 Introduction
My Honey's favorite dish
My Honey's favorite dish
Ingredients
1 TBS Oil




4 Cloves Garlic




4 Whole Chicken Breasts




1 Can Fat Free Chicken Broth




2 Cans Mushroom Soup




2 Cans Hominy




2 1/2 Cups Skim Milk




3 1/2 Cups Brown Rice




1 1/2 Cups White Rice




Garlic Salt and Pepper to taste
Directions
Cook rice and set aside to cool completely. Slice garlic and set aside. Cube chicken into bite sized pieces, season with garlic salt and pepper. Saute garlic in oil until soft. Add chicken and cook on medium heat until done. Add Chicken broth and simmer until most of the liquid has evaporated. Add mushroom soup, milk and hominy. Heat through adjusting seasoning if needed. Remove from heat and add rice, stir until well mixed. Soup will thicken as it cools.
Makes 10 1 cup servings.

Please note: Make sure rice is completely cooled before adding to soup. If not it will turn gluey.

Number of Servings: 10

Recipe submitted by SparkPeople user CATSPAW65.


Great Stories from around the Web
Rate This Recipe