Nutritional Info
Servings Per Recipe: 16
Amount Per Serving
Calories:

182.4
Total Fat:

4.0 g

Cholesterol:

23.2 mg

Sodium:

148.6 mg

Total Carbs:

34.4 g

Dietary Fiber:

2.0 g

Protein:

4.2 g
Report Inappropriate Recipe
Pumpkin Spice Cake with Chocolate Drizzled Frosting
Submitted by: RAZELLA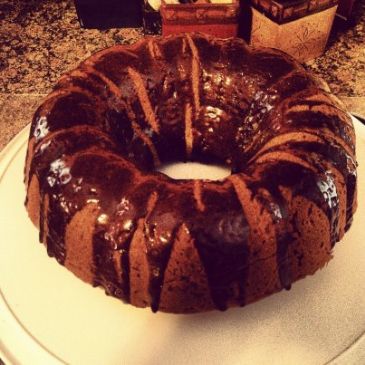 Introduction
A yummy Pumpkin Spice Cake - moist and delicious
A yummy Pumpkin Spice Cake - moist and delicious
Ingredients
2.5 Cups All Purpose Flour




0.5 Cup Wheat Flour




0.5 Cup Brown Sugar




1 Cup Splenda




0.5 Cup Shortening




0.75 Cup Applesauce




15 oz Canned Pumpkin, unsweetened




1 tsp salt




1 tsp nutmeg




1 tsp allspice




1 tsp ground ginger




3.5 tsp cinnamon




2 tsp baking soda




2 eggs




0.5 Cup Chocolate Icing
Directions
Preheat oven to 350 degrees.
Lightly grease a bundt cake pan.
In a mixing bowl, mix together all flour, salt, nutmeg, allspice, ground ginger, cinnamon, and baking soda.
In another bowl, cream together brown sugar, splenda, and shortening. Add in applesauce and mix together thoroughly. Separately beat eggs, then added beated eggs and mix in. Lastly, add and mix in pumpkin.
Slowly mix the flour mixture into the wet mixture, making sure it is incorporated thoroughly and mixed well through out.
Pour into bundt pan and bake for 60 minutes.
Remove cake and set on wire rack.
Microwave chocolate icing for 1 minute, or until warm and runny.
Drizzle over cake.

Serving Size: Makes 16 Pieces

Number of Servings: 16

Recipe submitted by SparkPeople user RAZELLA.


Great Stories from around the Web
Rate This Recipe