Nutritional Info
Servings Per Recipe: 6
Amount Per Serving
Calories:

292.7
Total Fat:

2.7 g

Cholesterol:

23.3 mg

Sodium:

328.6 mg

Total Carbs:

43.1 g

Dietary Fiber:

4.8 g

Protein:

23.2 g
Report Inappropriate Recipe
Scalloped potatoes and Tuna casserole
Submitted by: JULIA_RUN2SMILE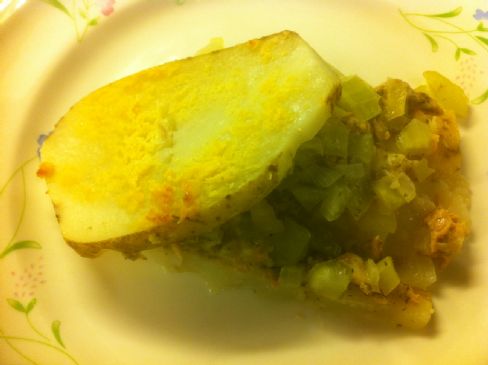 View the original recipe for
Scalloped potatoes and Ham casserole
Ingredients
1350 gr Potatos (4 large potatoes)




1/8 C Wheat Flour




1 Medium Onion (raw, chopped)




2 Large Stak Celery (raw, chopped)




1 1/2 Cup Milk 1%




2 Cans Tuna in water, 170 gr (drained)




Epicure Spice (Lemon and Dill) to taste




Fresh herbs - to taste




1/4 C Parmesan cheese (grated)
Directions
1. Spray a cooking pan. Layer 1/3 of potatoes, onion and celery (together), 1/3 of potatoes, tuna and finish with 1/3 of potatoes. Sprinkle flour between each layer.
2. Heat milk and season with no salt epicure spice, and herbs. Pour milk over the casserole. Sprinkle parmesan cheese. Cover with aluminum paper.
3. Bake 45 min at 375░ F. Remove cover and broil for an additional 2 minutes.


Serving Size:ámakes 6 servings.


Great Stories from around the Web
Rate This Recipe