Nutritional Info
Servings Per Recipe: 2
Amount Per Serving

Calories: 125.9
Total Fat:

3.1 g

Cholesterol:

10.0 mg

Sodium:

556.7 mg

Total Carbs:

14.2 g

Dietary Fiber:

2.0 g

Protein:

11.1 g
Report Inappropriate Recipe
French Onion Soup
Submitted by: SAUGADREZ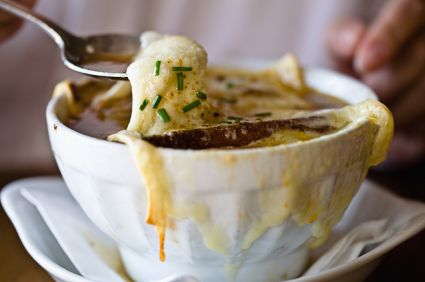 Introduction
A great meal on a cold day!
A great meal on a cold day!
Ingredients
1/4 cup of water




1 medium sized yellow onion




4 cups beef broth




2 oz part skim Mozzarella Cheese




4 tbsp croutons
Tips
Directions
In a medium sauce pan add the 1/4 cup of water and bring to a boil.
Slice the onion into this strips and add to the water. Continue cooking until onions clarify.
Once the onions are clear, add 4 cups of beef broth. Bring to a boil and then simmer for about 15 - 20 minutes.
Shred the mozzarella.
Once done, place two cups of soup into bowl, garnish with 1 oz shredded mozzarella and 1 tbsp croutons. Enjoy!!



Rate This Recipe
Member Ratings For This Recipe
If you like a strong beef broth soup with a little onion flavor you will like this. If you want real french onion soup look elsewhere. Carmelizing onions are an essential step to making a rich tasting onion soup. There also is not enough onions in this recipe even if you did carmelize them.

- 3/30/10

This is a good recipe. I make it with a lrge onion. Sauted in the microwave 6 minutes, I always use Swansons NO MSG and Low sodium and always add a little Sherry. Company gets the bread and cheese topper I am allergic to yeast so I simply leave it off. Its a great company appetiser always gets raves

- 3/30/10

I used a packet of chicken bouillon left over from some ramen noodles that I used for something else; should have used a half. Still, MAGICAL!!! mmmmm :) Of course I caramelized my onions, too and I made it upside-down: croutons (diced whole grain toast) in the bottom, cheese and then the soup.

- 2/7/13

This was so good and quick and easy to make. I was happy that I didn't have to run to the store for ingredients I had all the ingredients on hand so that was a major plus for me. I had 2 servings of this and was very satisfied. This will be on the top of my soups list most definitely.

- 1/23/13

i had no idea french onion was this easy, i love it. kids never had it before and gobbled it up as well. after reading, i used 2 onions and carmelized them first in little olive oil. also prob. used too much motzerella cheese and mixed with shredded romano. next time ill try parmesan. thanks!!!

- 12/20/12

Not enough onions in this recipe. I upped it to 4 onions. I like a little more onion flavor, rather than strictly beef broth. By cooking the onions slower and longer and in a little fat, such as olive oil or butter (butter spray) rather than directly in water it will up the onion flavor.

- 5/24/12