Nutritional Info
Servings Per Recipe: 2
Amount Per Serving
Calories:

357.1
Total Fat:

8.8 g

Cholesterol:

162.8 mg

Sodium:

159.4 mg

Total Carbs:

50.2 g

Dietary Fiber:

15.3 g

Protein:

22.9 g
Report Inappropriate Recipe
Seaweed Adzuki Stew
Submitted by: -POOKIE-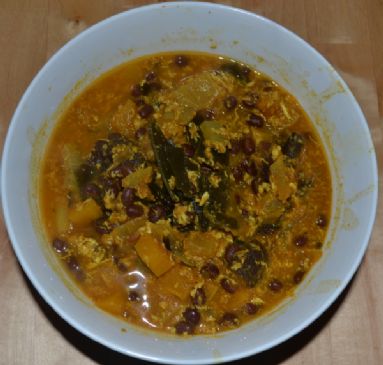 Introduction
Leave out the egg for a vegan stew.
Leave out the egg for a vegan stew.
Ingredients
Egg 2 medium




Paprika, 1 tsp




Pepper, red or cayenne, 0.5 tsp




Turmeric, ground, 1 tsp




Sunflower Oil, 1tsp




Garlic, 1 tsp




Ginger Root, 1 tsp




Winter Squash, 150g




Canned - Adzuki Beans 235g drained




Pumpkin 200 grams




Porcini Stock Cube, 1 serving (in 1 litre boiling water)




Seaweed, wakame, 20 grams




dried shitake mushrooms 25 grams




Onions 250 grams
Tips
Chop the squash small to shorten cooking time.
SparkPeople Sponsored Video
Directions
Snap up seaweed and mushrooms and leave to soak in boiling water with stock cube.

Dice onions with garlic and ginger,and fry with oil until soft, add spices.

Add small diced winter squash and pumpkin.

Add stock (with the soaked seaweed and mushrooms)

Add beans.

Leave to simmer until squashes are cooked to liking. Add more water if mushrooms/seaweed have absorbed a lot.

Beat eggs, then turn off the heat, while stirring gently pour the beaten eggs in a thin ribbon into the pan, stirring all the time to make "egg flower".

Serve strait away.


Great Stories from around the Web
Rate This Recipe