Nutritional Info
Servings Per Recipe: 8
Amount Per Serving
Calories:

70.8
Total Fat:

2.0 g

Cholesterol:

0.0 mg

Sodium:

44.5 mg

Total Carbs:

14.4 g

Dietary Fiber:

7.0 g

Protein:

3.9 g
Report Inappropriate Recipe
MAKEOVER: Pumpkin Tofu Pie with Fiber One Crust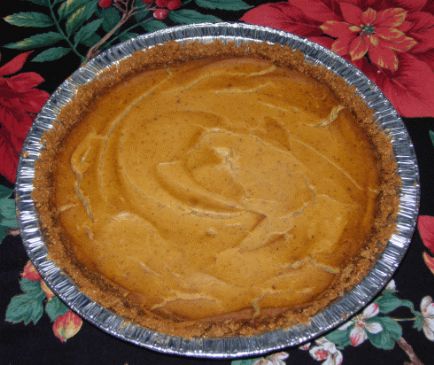 View the original recipe for
Pumpkin Tofu Pie Lite with Fiber One Crust
Ingredients
Filling:




1 Tbsp. pumpkin pie spice




1 1/2 c. canned pumpkin




8 oz. silken tofu




1.2 c. splenda for baking





Crust:




1 1/2 cups Fiber One cereal, crushed




1/4 cup soymilk





Optional: Whipped topping of your choice - not included in nutrition info.
Directions
For pie crust, crush or food process the cereal.
Blend with the soymilk until it has a doughy texture (can do in food processor).
Press into a pie plate.
Bake crust for about 8 minutes at 425 F.

Mix together the pumpkin, salt, splenda and pie spice.
Blend or food process the tofu until smooth.
Stir into the pumpkin mixture.
Pour into the pie shell.

Bake pie in preheated oven at 425 degrees for 15 minutes.
Turn down the temperature to 375 and continue to bake for 45 minutes or until a toothpick inserted into the middle comes out clean.


Great Stories from around the Web
Rate This Recipe