Nutritional Info
Servings Per Recipe: 8
Amount Per Serving
Calories:

151.3
Total Fat:

8.4 g

Cholesterol:

19.5 mg

Sodium:

112.4 mg

Total Carbs:

12.5 g

Dietary Fiber:

2.6 g

Protein:

7.0 g
Report Inappropriate Recipe
Ground Beef & Cabbage Stir Fry
Submitted by: MOVEITMARY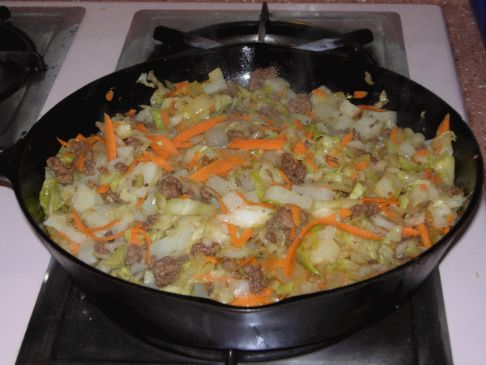 View the original recipe for
Ground Beef & Cabbage Hash
Introduction
Yummy one dish meal!
Yummy one dish meal!
Ingredients
1/2 lb 85% lean ground beef




4 cups chopped cabbage




1 cup chopped carrots




1 onion, chopped




2 cups potatoes, chopped




1 tsp Tabasco sauce




3 TBSP worcestershire sauce




1/4 cup water
Tips
This dish could be made with other types of sauces in place of the Worcestershire - oyster sauce, teriyaki sauce, peanut sauce...
Directions
Boil potatoes until almost soft. Drain and set aside.
Heat oil in large pan.
Saute onions until beginning to become translucent. Add carrots and saute about a minute or two, then set them aside.
Fry ground beef until beef is brown. Add a bit of water while cooking as needed.
Add cabbage and fry until cabbage softens.
Add the Worcestershire sauce and tabasco (or sauce of your choice) and stir to combine.
Put all the ingredients back together in the pan and combine until hot.
Turn off, cover and let sit for a few minutes.

Makes 8 one cup servings.


Great Stories from around the Web
Rate This Recipe