Nutritional Info
Servings Per Recipe: 6
Amount Per Serving
Calories:

260.2
Total Fat:

21.5 g

Cholesterol:

11.0 mg

Sodium:

118.6 mg

Total Carbs:

12.3 g

Dietary Fiber:

4.2 g

Protein:

6.7 g
Report Inappropriate Recipe
Mario Batali's Eggplant Parm Stacks
Submitted by: BJUBILEE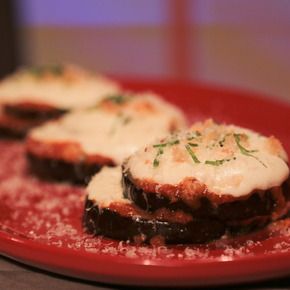 Ingredients
2 large purple eggplants (sliced in 1 inch rounds)




1 head of garlic cloves (peeled and thinly sliced)




1 cup basil leaves2 cup Mario's classic tomato sauce




1.5 balls of mozzarella (sliced into 1/4 in rounds)




1/4 cup bread crumbs




1 tablespoons chili flake




2 teaspoons fresh thyme




1/2 cup extra virgin olive oil




salt and pepper to taste
Directions
Preheat oven to 375 degrees Lay out eggplant rounds on cookie sheets (lined with foil for easier clean up) in single layers. Cut 2-3 slits per round, large enough to stuff a garlic slice into each slit. Season with salt and pepper and drizzle with olive oil. Roast until soft and cooked completely, about 10-15 minutes. Mix bread crumbs, thyme and chili flakes together. Heat saute pan over medium heat and add 1/4 cup olive oil. Once hot, add bread crumb mixture and toast until golden brown. Remove bread crumbs from pan onto a paper towel lined plate.Remove eggplant from oven and let cool just slightly, enough so you can handle. Reuse a cookie sheet and build stacks of eggplant parm. Begin with a slice of eggplant and layer with 2-3 leaves of basil, smear with a couple tablespoons of tomato sauce and top with a slice of mozzarella. Build two layers tall and top with breadcrumbs.Increase the temperature of the oven to 400 degrees Put the eggplant stacks back into the oven and cook 3-5 minutes, or until the cheese is melted and the bread crumbs are toasted.

Serving Size: 6

Number of Servings: 6

Recipe submitted by SparkPeople user BJUBILEE.


Great Stories from around the Web
Rate This Recipe