Nutritional Info
Servings Per Recipe: 4
Amount Per Serving
Calories:

217.0
Total Fat:

7.0 g

Cholesterol:

186.0 mg

Sodium:

330.6 mg

Total Carbs:

27.6 g

Dietary Fiber:

2.9 g

Protein:

9.8 g
Report Inappropriate Recipe
10-Minute Fried Rice
Submitted by: SPARK_RECIPES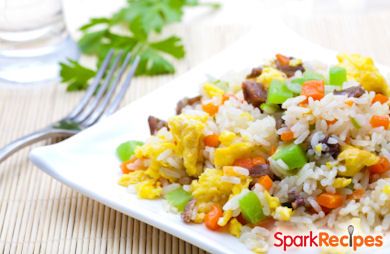 Introduction
Forget takeout and TV dinners. This meal is ready in just 10 minutes.
Forget takeout and TV dinners. This meal is ready in just 10 minutes.
Ingredients
1 (10-ounce) package frozen stir-fry vegetables




4 large eggs




1 tablespoon light soy sauce




1 teaspoon toasted sesame oil




1 teaspoon sriracha (Thai chili sauce), optional




2 cups prepared brown rice




4 green onions, greens and whites sliced




3 cloves garlic, minced, or 1 tablespoon jarred garlic




Tips
Make it a Chinese frittata: Pour the egg mixture evenly over the veggies and rice and allow to cook until halfway set. Transfer to the oven and broil until the eggs are no longer soft and the top of the frittata is brown. Cut into four wedges and serve immediately.
SparkPeople Sponsored Video
Directions
Prepare the frozen vegetables according to package directions, then drain any excess water.
While the vegetables are cooking, lightly beat the eggs, soy sauce, and sesame oil together in a medium bowl.
Place a large nonstick skillet over medium-high heat. Coat with nonstick spray, then add the rice, green onions, garlic, and cooked vegetables. Cook for about three minutes, until the garlic is fragrant and the vegetables are starting to brown.
Gently pour the egg mixture into the pan and cook, stirring constantly, until the eggs are set.
Serve immediately, with sriracha if desired.


About 1 1/2 cups per portion.


Great Stories from around the Web
Rate This Recipe
Member Ratings For This Recipe