Nutritional Info
Servings Per Recipe: 96
Amount Per Serving
Calories:

18.4
Total Fat:

1.3 g

Cholesterol:

3.8 mg

Sodium:

36.2 mg

Total Carbs:

0.9 g

Dietary Fiber:

0.3 g

Protein:

0.8 g
Report Inappropriate Recipe
Cheese Crackers
Submitted by: SANDYW1945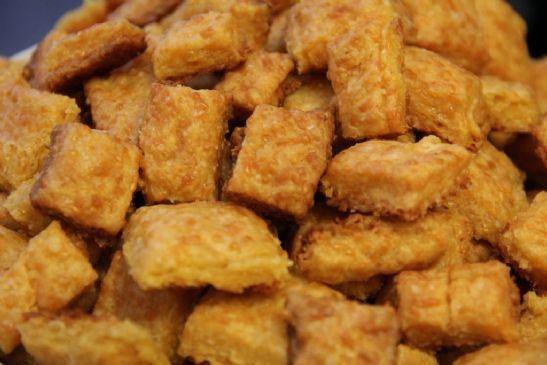 Introduction
These crackers will take the place of packaged cheese crackers with all those chemicals and are they are wheat/gluten free
These crackers will take the place of packaged cheese crackers with all those chemicals and are they are wheat/gluten free
Ingredients
1 cup or 120 Grams - Buckwheat Flour (Arrowhead Mills or similar)




4 Tbsp Butter (Chilled)




8 oz cheddar cheese (Grated)




3/4 teas. Salt (optional)




1/4 teas. Cayenne Pepper (optional)




Directions
Cut butter into buckwheat flour until crumbly. Add grated cheese, salt, cayenne.

Press into ball, adding water as necessary to make a dough that holds together. Wrap with wax paper and refrigerate for at least 30 minutes (the colder the better).

Roll out to 1/8 inch thick. Cut into inch squares. Bake at 350 degrees F on cookie sheets covered with parchment paper for 20 - 25 minutes until bottoms are browned.

Serving Size: Makes 96

1 inch pieces.


Great Stories from around the Web
Rate This Recipe