Nutritional Info
Servings Per Recipe: 2
Amount Per Serving
Calories:

124.9
Total Fat:

3.0 g

Cholesterol:

4.5 mg

Sodium:

60.3 mg

Total Carbs:

14.5 g

Dietary Fiber:

3.3 g

Protein:

10.6 g
Report Inappropriate Recipe
Overnight Oatmeal
Submitted by: GEEBEE123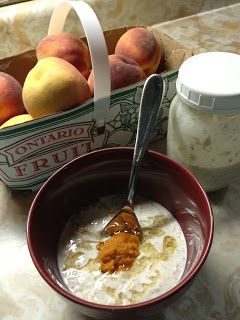 Introduction
Overnight Oatmeal Breakfast
Overnight Oatmeal Breakfast
Ingredients



Ingredients




1/2 cup of Greek Yogurt




1 Tbsp of Chia Seeds




2/3 cup of Milk




1/2 cup of Rolled Oats




Add all ingredients into a container, or Jar




and then mix well, or shake and leave in your




refrigerator overnight.




First thing in the morning, it is ready to eat.
Tips
Before eating for breakfast, you can add 1 Tbsp of canned Pumpkin, applesauce, or even Dried Cranberries, Raisins, Dates. Just remember to add that in your calculations. If you like it more sweetened you could probably use a low fat flavored yogurt, or a 1 tsp of honey, or low cal sweetner.
Directions

Serving Size: Makes 2 1 cup servings


Great Stories from around the Web
Rate This Recipe
Member Ratings For This Recipe