Nutritional Info
Servings Per Recipe: 4
Amount Per Serving

Calories: 503.0
Total Fat:

21.6 g

Cholesterol:

95.3 mg

Sodium:

1,191.4 mg

Total Carbs:

29.6 g

Dietary Fiber:

4.5 g

Protein:

47.7 g
Report Inappropriate Recipe
Philly Cheesesteak
Submitted by: LABEND86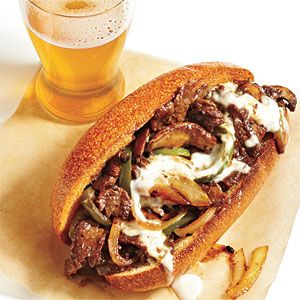 Introduction
Meaty, gooey, and delightfully messy, our lightened version of Philly Cheesesteak is the type of sandwich you'll crave all year
Meaty, gooey, and delightfully messy, our lightened version of Philly Cheesesteak is the type of sandwich you'll crave all year
Ingredients
1 (12-ounce) flank steak, trimmed




1/4 teaspoon kosher salt




1/4 teaspoon freshly ground black pepper




2 (5-inch) portobello mushroom cap




2 teaspoons extra-virgin olive oil, divided




1 cup thinly sliced onion




1 1/2 cups thinly sliced green bell pepper




2 teaspoons minced garlic




1/2 teaspoon Worcestershire sauce




1/2 teaspoon lower-sodium soy sauce




2 teaspoons all-purpose flour




1/2 cup low-fat milk




1 ounce provolone cheese, torn into small pieces




2 tablespoons grated Parmigiano-Reggiano cheese




1/4 teaspoon dry mustard




4 (3-ounce) hoagie rolls, toasted
Tips
The listed nutritional information from the website is the following:

Calories: 397
Fat: 12.4g
Saturated fat: 4.9g
Monounsaturated fat: 4.7g
Polyunsaturated fat: 1.6g
Protein: 30.8g
Carbohydrate: 44.1g
Fiber: 3.7g
Cholesterol: 37mg
Iron: 4.6mg
Sodium: 637mg
Calcium: 213mg


I made some substitutions when I entered the ingredients in the recipe so it may vary slightly..


Directions
Hands On: 35 Minutes
Total: 45 Minutes

1. Place beef in freezer for 15 minutes. Cut beef across the grain into thin slices. Sprinkle beef with salt and pepper. Remove brown gills from the undersides of mushroom caps using a spoon; discard gills. Remove stems; discard. Thinly slice mushroom caps; cut slices in half crosswise.

2. Heat a large nonstick skillet over medium-high heat. Add 1 teaspoon oil to pan; swirl to coat. Add beef to pan; sauté 2 minutes or until beef loses its pink color, stirring constantly. Remove beef from pan. Add remaining 1 teaspoon oil to pan. Add onion; sauté 3 minutes. Add mushrooms, bell pepper, and garlic; sauté 6 minutes. Return beef to pan; sauté 1 minute or until thoroughly heated and vegetables are tender. Remove from heat. Stir in Worcestershire and soy sauce; keep warm.

3. Place flour in a small saucepan; gradually add milk, stirring with a whisk until blended. Bring to a simmer over medium heat; cook 1 minute or until slightly thickened. Remove from heat. Add cheeses and mustard, stirring until smooth. Keep warm (mixture will thicken as it cools).

4. Hollow out top and bottom halves of bread, leaving a 1/2-inch-thick shell; reserve torn bread for another use. Divide the beef mixture evenly among bottom halves of hoagies. Drizzle sauce evenly over beef mixture; replace top halves.

Website: http://www.myrecipes.com/m/recipe/philly-cheesesteak-50400000119701


Sidney Fry, MS, RD, Cooking Light
March 2012

Serving Size: Makes 4

Number of Servings: 4

Recipe submitted by SparkPeople user LABEND86.


Great Stories from around the Web
Rate This Recipe