Nutritional Info
Servings Per Recipe: 4
Amount Per Serving
Calories:

237.3
Total Fat:

6.8 g

Cholesterol:

46.5 mg

Sodium:

430.3 mg

Total Carbs:

38.6 g

Dietary Fiber:

9.7 g

Protein:

12.0 g
Report Inappropriate Recipe
MAKEOVER: Mickey's Chickpea patties. (by MICKEYH)
Submitted by: MICKEYH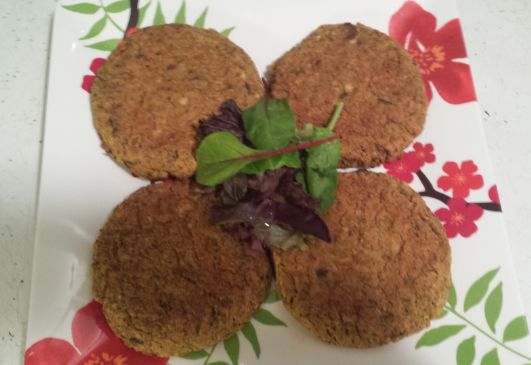 View the original recipe for
Mickey's Chickpea patties.
Introduction
Chick pea burger.
Chick pea burger.
Ingredients
*Cooked chickpea, 2 cups.




*Minced onion. Cooked. 0.5 cup.




*Green pepper,(bell pepper) 0.5 cup.




*Oyster mushroom. Cooked 2cups.




*jalapeño Pepper, 1 pepper. Minced




*Tahini, 1.5 Tbs.




*Egg, fresh raw. 1 egg.




*Bread crumbs, 1 cup.




Directions
Put all ingredients in food processor, pulse until well blend. Divid into 4 patties. Put 4 patties in baking pan with silicon pad or parchment paper. Baked 50 min. Or until golden brown or cooked. Turn patties in between baking. Serve while hot with your choice of bread. I like mine with whole wheat pita. Or just eat it with Fresh salad.

Serving Size: Makes 4 big patties.


Great Stories from around the Web
Rate This Recipe
Member Ratings For This Recipe
MIckey, I have dinner for my DD and I for tomorrow night! I love falafel and it DOES sound similar! Thanks. Great sounding ingredients.

- 9/30/13

Reply from

MICKEYH

(9/30/13)

Thanks for stopping by. I didn't need any add salt or pepper, since I used chickpea that already had some salt, but you may want to add or adjust any condiment of your choice to make taste of your liking. Such as salsa or some fresh squeezed lemon . (*^^*)