Nutritional Info
Servings Per Recipe: 6
Amount Per Serving
Calories:

261.2
Total Fat:

16.8 g

Cholesterol:

106.5 mg

Sodium:

330.2 mg

Total Carbs:

18.4 g

Dietary Fiber:

5.1 g

Protein:

11.8 g
Report Inappropriate Recipe
Peruvian Causa
Submitted by: LCARULLA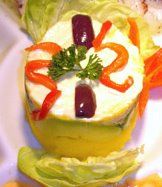 Ingredients
1.5 cup mashed potato (dehydrated)




4 lemon juice (yields)




1tbsp canola oil




1 cup chopped hard boiled eggs




1 cup tuna, water canned




2 avocados (haas)




6 tbsp fat free mayonnaise




salt




pepper





see Note for extra ingredients
Directions
6 servings

start making the mashed potatoes, just with water, once it's done (try not to over stir) let it cool a bit, add salt and pepper to taste, canola oil and half of the lemon juice.
put half of the mashed potato in a container (preferably enlongated, covered with plastic wrap to unmold it easily)
season the mayo with salt, pepper and some lemon juice (leaving some for the avocados)
then put a layer of chopped eggs (mixed with 3 tbsp of mayo), then a layer of sliced avocados sprinkled with salt, pepper and with lthe leftover lemon juice (to prevent it from darkening) then a layer of tuna mixed with the other 3 tbsp of mayo.
I sometimes put (as the first layer so it is on top after unmolding) a very thin layer of chopped tomatoes seasoned (always letting it drain a lot)
then cover with the other half of the mashed potato.
once it's set unmold it and you can decorate it with olives, sliced hard boiled eggs (topped with a drop of ketchup)
Note: In Peru we use boiled "yellow" potatoes (they are great tasting if you want you may use a mix of red potato and idaho potato) and we also season them with pureed "aji amarillo" adding spice, that you can find at any latin store, or you can just leave it so anybody can add it to taste.

You can change the tuna for chiken (shredded), crab or any other shellfish, but I would keep the other ones.


Number of Servings: 6

Recipe submitted by SparkPeople user LCARULLA.


Great Stories from around the Web
Rate This Recipe
Member Ratings For This Recipe