Nutritional Info
Servings Per Recipe: 6
Amount Per Serving
Calories:

143.4
Total Fat:

0.9 g

Cholesterol:

0.8 mg

Sodium:

211.9 mg

Total Carbs:

30.3 g

Dietary Fiber:

4.9 g

Protein:

6.0 g
Report Inappropriate Recipe
Bob's Red Mill Whole Wheat Pita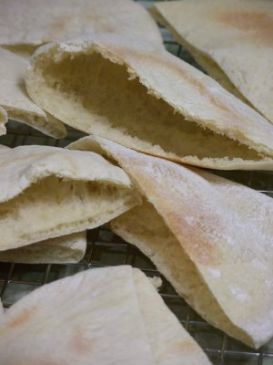 Introduction
healthy and tasty
healthy and tasty
Ingredients
2 cups Whole Wheat Flour




3/4 cup Warm Water (110 degrees F.)




1/2 cup Buttermilk, room temperature




1/2 tsp Sea Salt




1-1/2 tsp. Yeast, Active Dry
Directions
In a large mixing bowl, combine all, but 1 cup of flour and mix for about 3 minutes
with a wooden spoon or by hand; gradually add remaining flour to make a stiff
dough.
Turn dough out onto a floured work surface and knead for 10 minutes. Place dough
in a greased bowl and turn once to coat. Cover and let rise about 45 minutes in a
warm place. (If you're in a hurry, omit this step.)
Place dough on a floured surface and shape into a long log, about 2 inch in
diameter. Cut in 1-1/2 inch slices. Shape into balls and with a floured rolling pin roll
from center out to edges into circles about 7-9 inches in diameter.
Place on preheated baking sheet on the lowest shelf and bake at 500°F for 4-6
minutes or until pita puffs all over and browns slightly. Remove from oven and
cover with towel until cool. Store in a plastic bag in the refrigerator or freeze.

Nutrition info is for 6 pitas, but I haven't made the recipe yet so I don't know how many it makes!

Number of Servings: 6

Recipe submitted by SparkPeople user PESCETARIAN.


Great Stories from around the Web
Rate This Recipe