Nutritional Info
Servings Per Recipe: 4
Amount Per Serving

Calories: 104.6
Total Fat:

7.1 g

Cholesterol:

0.0 mg

Sodium:

585.9 mg

Total Carbs:

10.0 g

Dietary Fiber:

1.2 g

Protein:

1.6 g
Report Inappropriate Recipe
Oven Roasted Baby Red Potatoes
Submitted by: SXYRICANPRNCS69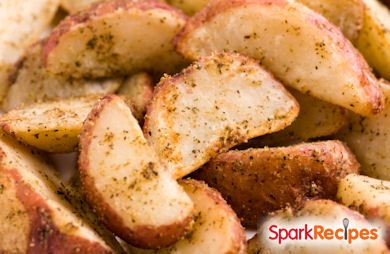 Introduction
Try these instead of Baked Potatoes
Try these instead of Baked Potatoes
Ingredients
Approx 1lb Baby Red Potatoes




2Tbsp Extra Virgin Olive Oil (EVOO)




1Tsp Salt




1Tsp Pepper




2Tbsp Onion Powder




2Tbsp Garlic Powder




1Tbsp Four
Directions
5 1-cup Servings

1. Pre-heat oven to 425 degrees
2. Wash and half potatoes (leave skin on) and place on cookie sheet.
3. Coat potatoes with EVOO, salt, pepper, onion powder, garlic powder and flour. Toss gently.
4. Cook potatoes for about 30 minutes or until done. (fork will go through when done)

*You can omitt the flour if you like. The flour gives the potatoes a little bit of a crispy coating if you add it.


Number of Servings: 4

Recipe submitted by SparkPeople user SXYRICANPRNCS69.


Rate This Recipe
Member Ratings For This Recipe
I made this today for dinner. Varied a little for less calories, no no fat olive oil & no fat butter spray, used a little seasoning salt, garlic w/ pepper seasoning, garlic powder (mixed potatoes w/seasonings, sprayed glass pan w/spray, added a little water and covered with foil.

- 6/12/12

We just finished eating these. My husband said they were better than french fries. I left out the garlic and onion because of allergies. I sprayed a bit of PAM (Olive Oil flavor) over them before baking and they got really brown and crisp outside and very soft inside

- 12/24/10