Nutritional Info
Servings Per Recipe: 12
Amount Per Serving
Calories:

153.6
Total Fat:

3.7 g

Cholesterol:

0.0 mg

Sodium:

106.0 mg

Total Carbs:

28.9 g

Dietary Fiber:

0.4 g

Protein:

1.6 g
Report Inappropriate Recipe
Allergy Free Cake [No Eggs, peanuts, or dairy]
Submitted by: GILLIGIRL_05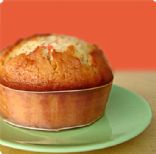 Introduction
This is a tasty cake for anyone with allergies!
This is a tasty cake for anyone with allergies!
Ingredients
* 1 1/2 cups all-purpose flour




* 1/2 teaspoon salt




* 1 cup white sugar




* 1/4 cup unsweetened cocoa powder [for chocolate cakes]




* 1 teaspoon baking soda




* 3 tablespoons vegetable oil




* 2 tablespoons applesauce [or sub veg oil]




* 1 tablespoon white vinegar




* 1 teaspoon vanilla extract




* 1 cup cold water




* 1/2 cup semi-sweet chocolate chips [if desired]



SparkPeople Sponsored Video
Directions
1] Preheat oven to 350 degrees F (175 degrees C).

2] Grease an 8x8 inch baking pan [or grease or line cupcakes]

3] In a large bowl, combine flour, salt, sugar, [cocoa powder], and baking soda. Mix well with a fork, then stir in oil, applesauce, vinegar, and vanilla extract.

4] When dry ingredients are thoroughly moistened, pour in cold water and stir until batter is smooth.

5] Stir in chocolate chips if desired] and pour batter into prepared pan.

6] Bake in preheated oven for 30 to 35 minutes [for 8 x 8 cake], or 20 - 25 minutes [for cupcakes], or until a toothpick inserted in center comes out clean.

7] Enjoy!

Number of Servings: 12

Recipe submitted by SparkPeople user GILLIGIRL_05.


Great Stories from around the Web
Rate This Recipe
Member Ratings For This Recipe