Nutritional Info
Servings Per Recipe: 16
Amount Per Serving

Calories: 122.2
Total Fat:

1.8 g

Cholesterol:

1.4 mg

Sodium:

268.3 mg

Total Carbs:

24.7 g

Dietary Fiber:

2.2 g

Protein:

5.7 g
Report Inappropriate Recipe
Low-Fat Sugar Free Carrot Cake
Submitted by: ASHLYNNE12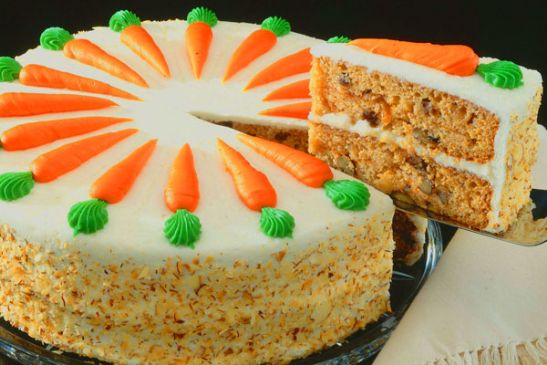 Ingredients
1 cup AP Flour




1 cup Whole Wheat Flour




2 tsp. Baking Soda




1 tsp. Cinnamon, ground




1/2 tsp. Allspice




1/4 tsp. Nutmeg, ground




4 egg whites




1 1/4 cups Brown Sugar Twin (Brown Sugar Substitute)




1 cup Applesauce, unsweetened




1/2 cup Buttermilk, lowfat




1 tsp. Vanilla Extract




8 oz. can pineapple crushed, drained




2 cups Carrots, grated




1/2 cup Raisins




1/4 cup Walnuts, chopped




1 cup Cream Cheese, Fat Free




2 cups powered Splenda, see below




1 tsp. Lemon juice




1/2 tsp. Vanilla Extract
Directions
PREPARATION:
Preheat oven to 350 degrees. Spray a 13-inch x 9-inch baking pan with nonstick cooking spray.

Combine flours, baking soda, cinnamon, allspice and nutmeg in a large bowl. Stir with a whisk. In another bowl, beat egg whites until soft peaks form.

Beat in Brown Sugar Twin slowly, followed by the applesauce, buttermilk and vanilla. Add to flour mixture and stir until just moist. Stir in the pineapple, carrots, raisins and walnuts. Spoon batter into baking pan and bake for 35-40 minutes, until a toothpick inserted in the center comes out clean. Cool on a wire rack before frosting.

For the frosting:
To make powdered Splenda, place regular Splenda in a food processor and grind it into a fine powder.
Beat cream cheese together with lemon juice and vanilla. Add in powdered Splenda until desired consistency. Spread over cooled cake.

Cut cake into 16 squares.

Number of Servings: 16

Recipe submitted by SparkPeople user ASHLYNNE12.


Great Stories from around the Web
Rate This Recipe
Member Ratings For This Recipe