Dilled Shrimp Salad with Herb Dill Dressing
Nutritional Info
Servings Per Recipe: 4
Amount Per Serving
Calories:

309.6
Total Fat:

7.2 g

Cholesterol:

258.4 mg

Sodium:

304.4 mg

Total Carbs:

14.1 g

Dietary Fiber:

3.4 g

Protein:

38.2 g
Report Inappropriate Recipe
Submitted by: BINGOSMOM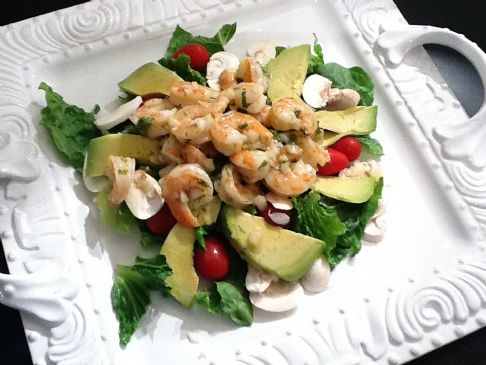 Ingredients
Shrimp:





1C Dry White Wine




1t mustard seeds




1/4 t red pepper flakes




2 bay leaves




1 lemon sliced




1 1/2 lbs. large shrimp, peeled and deveined





Herb Dill Dressing




3 T extra virgin olive oil




3 T red wine vinegar




2 T water




2 T fresh chopped basil




2 T fresh chopped dill




1 t finely chopped garlic




1 t dijon mustard




1/2 medium onion, chopped





SaladL




1 large head romaine lettuce




4 ripe tomatos, cut into wedges




6 mushrooms, sliced
Directions
To make shrimp: Combine wine, mustard seeds, pepper flakes, bay leaves and lemon in large saucepan. Add water to fill pan two thirds full. Bring to boil, add shrimp and cook for 3-4 minutes. Drain and cool. Discard bay leaves.

To make dressing: In screwtop jar, add the dressing ingredients. Shake jar to mix and then refridgerate until chilled.

To make salad: Serve the shrimp mixtureon romaine lettuce leavesand surround with tomato wedges and mushrooms.

Serves 4

Number of Servings: 4

Recipe submitted by SparkPeople user BINGOSMOM.


Great Stories from around the Web
Rate This Recipe
Member Ratings For This Recipe