Nutritional Info
Servings Per Recipe: 2
Amount Per Serving
Calories:

161.3
Total Fat:

2.8 g

Cholesterol:

0.0 mg

Sodium:

7,229.6 mg

Total Carbs:

4.0 g

Dietary Fiber:

1.1 g

Protein:

31.5 g
Report Inappropriate Recipe
Lemon and Herb Crusted Tilapia
Submitted by: BLONDEE139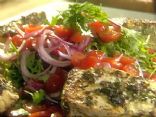 Ingredients
Substitute fish for your choosing.





6oz Portion:




Tilapia - 135c; 2.6g Fat; 30g Protein




Snapper - 217c; 2.9g Fat; 44g Protein




Halibut - 238c; 5g Fat; 45g Protein





4 teaspoons chopped lemon zest*




4 teaspoons chopped fresh dill*




4 teaspoons chopped fresh parsley leaves




4 teaspoons chopped fresh chervil leaves*




2 teaspoons cracked black pepper




4 (6-ounce) halibut fillets, skinned




1 1/2 teaspoons salt




4 teaspoons Dijon mustard




1 tablespoon vegetable oil*




4 tablespoons olive oil *



Directions
In a shallow bowl combine the lemon zest*, dill*, parsley, chervil*, and black pepper. Season the fish with 1 1/4 teaspoons of the salt, then lightly brush 1 side of each piece with 1 teaspoon of the Dijon mustard. Firmly press the mustard-coated side of each of the halibut fillets into the lemon-herb mixture. In a skillet, preferably non-stick, heat the vegetable oil. Place fillets, coated side down, into the hot oil. Cook until the crust turns golden, 3 to 3 1/2 minutes. Flip and continue to cook until the fish flakes easily, 3 minutes.

* Did not include

http://www.foodnetwork.com/food/recipes/recipe/0,,FOOD_9936_36864,00.html

Number of Servings: 2

Recipe submitted by SparkPeople user BLONDEE139.


Great Stories from around the Web
Rate This Recipe