Nutritional Info
Servings Per Recipe: 6
Amount Per Serving

Calories: 368.6
Total Fat:

7.9 g

Cholesterol:

67.1 mg

Sodium:

106.9 mg

Total Carbs:

49.7 g

Dietary Fiber:

3.1 g

Protein:

24.9 g
Report Inappropriate Recipe
Mom's slow-cooker pork chops and sweet potatoes
Submitted by: JENNIW70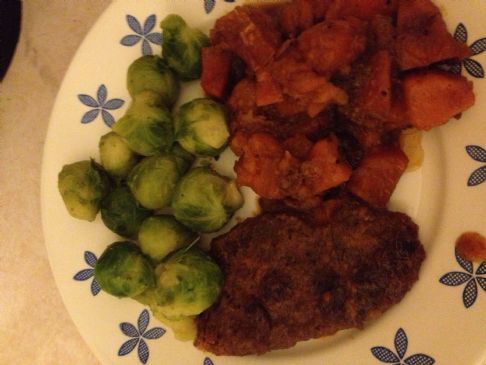 Introduction
This recipe is delicious and easy!
This recipe is delicious and easy!
Ingredients
6 Pork chops, trimmed of fat




3 or 4 sweet potatoes, cubed or 1 can sweet potatoes




1 can whole cranberry sauce




salt and pepper to taste
Directions
Season pork chops to taste. Layer pork chops and cranberries in slow cooker. Cook on high 4 hours or low 6-8 hours. If you use fresh sweet potatoes, add on top of slow cooker at start of cooking time. If you use canned sweet potatoes, add at last hour of cooking. Makes approx. 6 servings

Number of Servings: 6

Recipe submitted by SparkPeople user JENNIW70.


Rate This Recipe
Member Ratings For This Recipe
I must've done something wrong. I followed the directions to the letter and it turned out very watery. The meat is delicious, very tender, and the sweet potatoes are good, but the cranberry flavor got lost in all of the juice. Next time I'll try it in the oven and see if it works better.

- 2/10/11

I followed the directions and cooked this on low for 7 hours. The sweet potatoes were great, but the pork chops were way overcooked and dried out by then. The meat was inedible. This might have been delicious if it were cooked a few hours less.

- 2/14/10

Reply from

JENNIW70

(11/2/12)

I'm sorry! I have an older model of slow cooker. If yours is newer you may have to cook it low for less time.

My dad does not like pork chops and I don't like sweet potatoes but we tried it anyway...this was DELICIOUS! I spiced the pork w/ thyme, rosemary, salt and pepper. I coated the sweet potatoes in a little brown sugar and cinnamon...it was fantastic! Will def. make again!

- 12/11/11

I'm allergic to Cranberries, is there something else I can use to replace in the receipe?

- 8/5/12

Reply from

JENNIW70

(11/2/12)

You might want to try apples or applesauce maybe. If you do, let us know how it turns out...