Nutritional Info
Servings Per Recipe: 6
Amount Per Serving
Calories:

126.4
Total Fat:

4.1 g

Cholesterol:

9.8 mg

Sodium:

375.0 mg

Total Carbs:

2.2 g

Dietary Fiber:

0.4 g

Protein:

19.0 g
Report Inappropriate Recipe
Low-Carb Crustless Quiche
Submitted by: CHESSMANS2000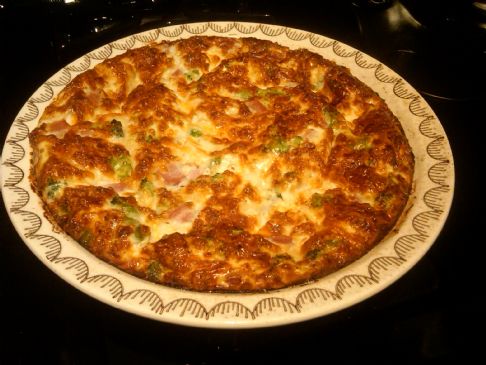 Ingredients
1 cup (not packed), non fat cottage cheese




2 cups egg substitute, liquid (Egg Beaters, or whites)




1/2 cup broccoli, cooked, chopped




1/2 cup ham, extra lean, (5% fat), diced




1/2 cup Cheddar or Colby Cheese, Low Fat, shredded




Salt & Pepper, to taste




Cooking Spray
Directions
Preheat oven to 375.

Mix all ingredients in a large mixing bowl. Pour into a pie dish sprayed with Pam or other cooking spray. Place on cookie sheet in oven. Bake approximately 45 minutes or until center is just set.

Makes 6 servings.

Variations:
Substitute different meats, cheese, and veggies such as:
turkey bacon, sausage
reduced fat swiss, mozzarella, or feta
spinach, peppers, onions, asparagus

Number of Servings: 6

Recipe submitted by SparkPeople user CHESSMANS2000.


Great Stories from around the Web
Rate This Recipe
Member Ratings For This Recipe
Great recipe. Loved it. Made the mistake of using a cup 2% milk without thickening it and there was some moisture left after cooking it for 15 min longer. Hubby still loved it, even suggested making it in muffin cups for breakfast on the run thru the week. Will do this tomorrow per recipe.

- 9/12/09

I like this recipe better than frittatas, as the process of putting the frittata under the broiler changes the flavor of the dish. Add a little nutmeg to this recipe and it is as good as any quiche recipe with crust and cream. Mine: asparagus, Buche de Chevre, & Nicoise olives - Yum!

- 6/16/10