Nutritional Info
Servings Per Recipe: 8
Amount Per Serving

Calories: 52.3
Total Fat:

1.4 g

Cholesterol:

0.0 mg

Sodium:

24.0 mg

Total Carbs:

10.6 g

Dietary Fiber:

2.5 g

Protein:

0.4 g
Report Inappropriate Recipe
Broiled Cinnamon Peaches
Submitted by: SLAPOJACKS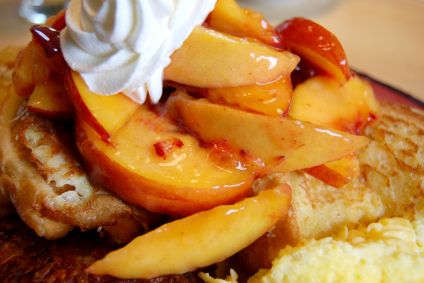 Introduction
Great low-carb dessert
Great low-carb dessert
Ingredients
Preparation time: 10 minutes





Cooking time: 5 to 10 minutes





Yield: 8 servings





Two 15-ounce cans peach halves canned in extra-light syrup.





2 tablespoons light margarine





2 teaspoons brown sugar substitute





cinnamon
Directions
1 Drain the peaches. Place the peaches cut side up in a broiler pan. Dot the cnter of each peach with the light margarine. Sprinkle lightly with brown sugar substitute. Sprinkle with cinnamon.

2 Broil approximately 5 to 10 minutes until brown

Number of Servings: 8

Recipe submitted by SparkPeople user SLAPOJACKS.


Rate This Recipe
Member Ratings For This Recipe
Better way to make this is with FRESH peaches, nectarines, plums, pineapple, apples, pears or apricots; on the grill along with your meat for dinner and prior to grilling sprinkle with ground cinnamon or ginger or nutmeg. Serve with a bit of chopped nuts...your choice. It's also wonderful serv

- 5/21/08

I agree with Spiralwriter's comments...almonds and flaxseed meal rather than wheat germ, due to Celiac disease...no gluten. A dollop of low fat vanilla yogurt is an extra treat if daily calories allow. Microwaved fresh peaches, apples, or pears work also...and try walnuts with the latter two.

- 12/4/07

We made this but we didn't use marjarine because it is not vegan we use peanut oil and it was very good and we sprinkled it with cinnamom and crushed walnuts and Niriki loved it and wanted more only we wouldn't let him eat too much because we don't want him to get sick.

- 5/20/08

Sliced fresh peaches, sauteed them in the recipe ingredients, adding a bit of lemon juice. Skins were easy to remove, so did. Served slices fanned out on plate along with almond flavored whip cream and toasted sliced almonds. Our guests were chasing the last morsels around the plate. A keeper.

- 7/6/11

I prefer fresh fruits/veggies, but keep a supply of canned ones on hand--just in case. Great way to use canned fruits before the expiration date! Also for bananas, etc. that are getting a little too ripe. Flexible recipe using various fruits, spices, sweetener, etc. Change w/seasons of year.

- 5/4/10