Nutritional Info
Servings Per Recipe: 2
Amount Per Serving

Calories: 193.5
Total Fat:

1.8 g

Cholesterol:

29.9 mg

Sodium:

366.6 mg

Total Carbs:

7.9 g

Dietary Fiber:

0.6 g

Protein:

34.3 g
Report Inappropriate Recipe
The BEST Tuna Salad
Submitted by: GORGEOUS26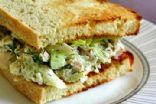 Introduction
Flavorful tuna salad made with cottage cheese and yogurt
Flavorful tuna salad made with cottage cheese and yogurt
Ingredients
I can Albacore Tuna




2/3 cup non-fat Cottage Cheese




4 tablespoons plain low-fat yogurt




1/4 small red onion, chopped finely




1 stalk celery, chopped finely




1 teaspoon Dijon mustard




Splash of lemon juice




Pinch or two of dill (my pinch is more like a tablespoon!)
Directions
I found this at http://www.elise.com/recipes/archives/000224tuna_salad_sandwich.php
and couldn't be happier! This beats the socks off any and all tuna salads I have ever had. And healthier too! By the way, I make lunches for my whole week of work so I usually triple the recipe and it makes 6 sandwiches.
(Per a rater's suggestion I changed the ingredients to nonfat cottage cheese because I accidently bought it the second time I made this, and it indeed doesn't taste any different. I have a hard time finding non-fat plain yogurt at the small store I go to but that would make this even healthier!)
Just throw into a bowl, give it a good mix and ENJOY!

Number of Servings: 2

Recipe submitted by SparkPeople user GORGEOUS26.


Rate This Recipe
Member Ratings For This Recipe
I make this recipe with normal tuna instead of albacore. I've also made it with water chestnuts & green onions instead of celery. I decreased the cottage cheese (because of the sodium) & I use non-fat plain greek yogurt. This is fabulous on cucumber rounds instead of bread!

- 1/23/11

Beautiful! Delicious, super-easy, healthful. At first missed lemon juice & accidentally heavy on cottage cheese & onion. After tasting, splash (~tsp) lemon juice, more dill (total 1.25 tsp), seasoned salt & fresh black pepper. Extraodinary. Strongly recommend start w/ original (dill!) THANKS

- 3/30/12

this was strangely yummy. i hate mayo, but i will tolerate it in things like tuna salad but it still grosses me out that its in there. now i can have tuna salad without mayo!

very yummy, i added salt and pepper. this will be made again for sure. so happy to not have to rely on mayo! thank you!

- 5/5/08

I would never have thought of this combination in a million years, but it is GREAT! The yogurt gives it a special tang. I had no dill the second time I made it and tried basil instead. Yummy! I made it a third time and added a can of drained navy beans and a second can of tuna. It was great!

- 3/2/10

I used part-skim ricotta cheese instead of cottage cheese and non=fat greek yogurt instead of plain yogurt. Also added a few carrots(just because).Used regular mustard because i didn't have Dijon.Still delicious I have been looking for a alternative for tuna salad and this is it! Thanks GORGEOUS26!

- 8/19/12

Okay, I was very skeptical (especially after making brownies made out of beans...yuck), but WOW..... It is sooo good!! Way more flavorful than just the typical tuna salad with mayo. When you said the Best tuna salad, you weren't kidding. Thanks so much for sharing!!

- 8/6/12

I may have put too much lemon juice in this, I used the juice from 1/2 lemon. Also, I wasn't sure what size can of tuna to use. I used 14oz (2 small cans). If I make this again, I'll blend the cottage cheese. I'm also thinking this may taste better tomorrow after the flavors have blended more.

- 10/20/09