Nutritional Info
Servings Per Recipe: 2
Amount Per Serving
Calories:

336.4
Total Fat:

15.8 g

Cholesterol:

34.9 mg

Sodium:

108.6 mg

Total Carbs:

23.2 g

Dietary Fiber:

5.2 g

Protein:

27.6 g
Report Inappropriate Recipe
Brazilian Halibut with Green Beans
-->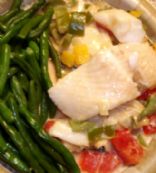 Introduction
This is an Adkins Diet Recipe
This is an Adkins Diet Recipe
Ingredients
6 oz Halibut




1 Tbsp Olive Oil




2 Green or Yellow Bell Peppers, diced




1 Jalapeno Pepper, diced




1/2 small Onion, diced




2 cloves Garlic, minced




1/2 cup unsweetened coconut milk




1/2 cup No Salt Added canned diced tomatoes




Juice of 1 Lime




salt & pepper, to taste




Tabasco, to taste




1 cup frozen green beans
Directions
Cook green beans according to package instructions.
Meanwhile place the halibut in a shallow dish, squeeze half lime over one side and season with salt & pepper to taste. Turn fish & repeat. Set aside.
In a large pan heat olive oil on med heat until hot. Add onions, peppers, jalapeno, and garlic. Cook for 2-3 minutes until onions start to become translucent. Add tomatoes & stir. Top vegetables with the halibut, pour coconut milk over top of fish. Cook for 3 min then turn fillet over, cook an additional 3 min or until fish flakes easily.
Serve with dash Tabasco on fish, and 1/2 cup green beans on the side.

**note**
To decrease the heat in this dish remove the seeds from the Jalapeno before dicing

Number of Servings: 2

Recipe submitted by SparkPeople user MOM2_JOHN_JACK.


Great Stories from around the Web
Rate This Recipe