Nutritional Info
Servings Per Recipe: 6
Amount Per Serving

Calories: 81.7
Total Fat:

0.3 g

Cholesterol:

0.0 mg

Sodium:

36.0 mg

Total Carbs:

20.3 g

Dietary Fiber:

1.8 g

Protein:

1.5 g
Report Inappropriate Recipe
Cucumber Salad in Vinegar
Submitted by: ANGELLYBELLY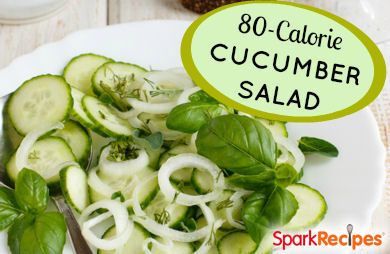 Ingredients
3-5 persian cucumbers (with peel) (or regular cucumbers without peel or "striped")




1 red onion




1/2 c. white vinegar




1/2 c. water




1/3 c. sugar




dash of salt and pepper
Directions
Slice onions and cucumber very thin slices & place in shallow dish.
Stir together vinegar, water, sugar, salt, pepper and pour over onions and cucumber.
Cover and marinate at least an hour.
The longer this sits, the tastier it gets.
May be made a day ahead.

Makes about 6 servings.
(For more servings just add more cucumber and onion.)

Number of Servings: 6

Recipe submitted by SparkPeople user ANGELLYBELLY.


Rate This Recipe
Member Ratings For This Recipe
I've made a variation of this recipe for about 42 years. Instead of sugar, I substitute w/Equal or Splenda & add caraway seed & celery seed. I've always made it and marinated this overnight to bring out the full flavor.

With the Sugar substitution, you save about 19 cal (3.33 calories per serving

- 4/21/13