Nutritional Info
Servings Per Recipe: 12
Amount Per Serving
Calories:

109.4
Total Fat:

1.8 g

Cholesterol:

0.0 mg

Sodium:

279.0 mg

Total Carbs:

19.0 g

Dietary Fiber:

6.1 g

Protein:

5.3 g
Report Inappropriate Recipe
Better Than Your Average Vegetarian Chili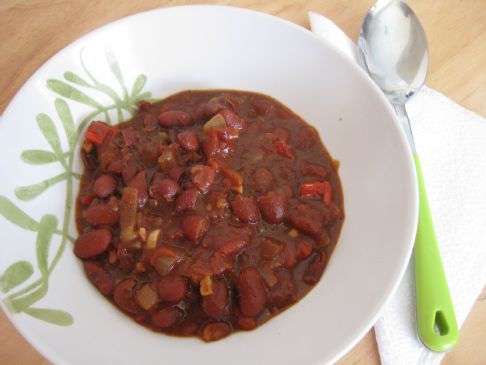 Introduction
Just made this today without a recipe. Turned out incredible so I figured I'd better write it down before I forget!
Just made this today without a recipe. Turned out incredible so I figured I'd better write it down before I forget!
Ingredients
4 . pinto, pink, kidney, or guinda beans with cooking sauce. (About two 14-15oz cans)




2 TBS ketchup (adds a little sweetness)




1 vegetable stock/bullion cube (adds depth)






1 TBS vegetable oil (light flavor)




1 large onion, chopped small




5-6 cloves garlic, minced (or to taste)




1 medium red bell pepper, seeded and chopped




3 TBS quality chili powder




1 tsp cumin




1/2 tsp garlic powder




Dash black pepper




1 can diced tomatoes, preferably with celery, onion, and green pepper





Cook beans and reserve four cups in soupy cooking liquid, or drain two 14-15 oz cans of your favorite cooking beans, rinse and set aside.





Sautee onions, garlic, peppers in vegetable oil along with chili powder, cumin, and garlic powder until soft. Add a little water (2 TBS?), cover and let simmer about ten minutes. This brings out the flavor in the spices.





Simmer beans and add can of tomatoes in a large (four quart) pot or sauce pan.





Add sauteed veggies and spices to the beans and tomatoes mixture.





Simmer on low heat at least half an hour.





This would be delicious with a cup of TVP or other ground meat substitute added. It would be incredible with a bit of shredded cheddar cheese or nonfat natural yoghurt. (I'm going to get some now!)





I also like to eat it like a sloppy joe for lunch at work. Tastes great as a cold sandwich, too!



Directions
I don't like kidney beans. I find them tough and overpowering. I like to use pink beans (my favorite) or pinto beans in my chili. They have a milder flavor and don't overpower the other flavors. However, I'm living in Peru, and they don't have pink or kidney beans here, so I used something called "frejoles guinda." Guinda means cherry. They look like a kidney, but are the size of a pink bean, and much softer, with thinner skin. However, their flavor is still quite powerful, so I was sure to add lots of chili powder!

I cook my own beans, since it's much, much more economical, easier on the environment, and probably healthier. I saved 4 cups of the guinda beans with some of the cooking water left in them. They were a bit soupy. I find this makes for a nice juicy chili.

If you are using canned beans, drain and rinse them, but add about two cups of water to your beans along with the canned tomatoes and vegetable stock cube.

I have been making chili for years, but have never added ketchup or vegetable stock before. The ketchup is a trick I learned from making Egyptian Chili. The sweet and spicy are an incredible combination.

Cook pinto, pink, , kidney, or guinda beans until soft (about 6 hours). KEEP IN COOKING WATER so the beans are soupy.

If you are using canned beans, drain, rinse well, add two cups of water in sauce pan.

Simmer beans and add vegetable stock cube or one cup vegetable broth and canned tomatoes.

Dice the onion and red pepper.

Sautee in one TBS light veggie oil (such as canola) on medium heat for about three minutes.

Add minced garlic. Sautee another two minutes.

Add chili powder, garlic powder, and cumin to sautee. Sautee on low-medium heat for about ten minutes. Add 2 TBS of water, cover and simmer about 10 minutes, to soften veggies and bring out flavor in spices.

Add this mixture to pot of beans and tomatoes. Cover and simmer at least 30 minutes.

Serve with shredded cheddar or plain nonfat yogurt. Serve on hamburger bun or in a bowl.

Makes about 12 1/2-cup servings.



Number of Servings: 12

Recipe submitted by SparkPeople user GLOBALJUJU.


Great Stories from around the Web
Rate This Recipe