Nutritional Info
Servings Per Recipe: 8
Amount Per Serving
Calories:

245.8
Total Fat:

9.7 g

Cholesterol:

0.0 mg

Sodium:

404.8 mg

Total Carbs:

39.6 g

Dietary Fiber:

1.0 g

Protein:

1.2 g
Report Inappropriate Recipe
diabetic pineapple pie
Submitted by: J_SMITH1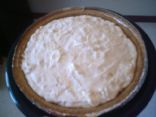 Introduction
easy to make and great taste!
easy to make and great taste!
Ingredients
*1- 20 oz. can crushed pineapple in 100% pineapple juice (no sugar added).




*1- pkg. vanilla sugar free-fat free instant pudding.




*1- 8 oz. tub sugar free whipped cream.




*1- reduced fat graham cracker pie crust.
SparkPeople Sponsored Video
Directions
1. thoroughly hand mix pudding w/ contents of can.
2. fold in whipped cream.
3. place filling in pie crust and chill for 1 hr.

*keep refrigerated.

Number of Servings: 8

Recipe submitted by SparkPeople user J_SMITH1.


Great Stories from around the Web
Rate This Recipe
Member Ratings For This Recipe