Nutritional Info
Servings Per Recipe: 2
Amount Per Serving

Calories: 198.1
Total Fat:

0.5 g

Cholesterol:

0.5 mg

Sodium:

39.0 mg

Total Carbs:

42.7 g

Dietary Fiber:

1.5 g

Protein:

6.3 g
Report Inappropriate Recipe
Five Minute Chocolate Mug Cake
Submitted by: SPITFIRE12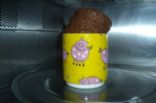 Introduction
This is chocolate cake in a coffee cup...with a few changes to make it healthier
This is chocolate cake in a coffee cup...with a few changes to make it healthier
Ingredients
1 coffee mug




4 tbs all purpose flour




4 tbs sugar (using a sweetner will lower the calories even more)




2 tbs baking cocoa




2 egg whites (instead of 1 egg)




3 tbs skim milk




3 tbs applesauce (instead of 3 tbs oil)




splash of pure vanilla




Directions
**serves 1 to 2** **cook in microwave for 3 min**
**Nutrition Facts are for 2 servings**

Add dry ingredients to mug, and mix well . Add the egg white and mix thoroughly.
Pour in the milk and applesauce and mix well.
Add the vanilla, and mix again.
Put your mug in the microwave and cook for 3 minutes on high. The cake will rise over the top of the mug, but don't be alarmed!
Allow to cool a little, and tip out onto a plate if desired. EAT! (this can serve 2 if you want to share!)
**chocolate chips or anything else you want can be added but will change nutrition facts**

Number of Servings: 2

Recipe submitted by SparkPeople user SPITFIRE12.


Rate This Recipe
Member Ratings For This Recipe
What, no baking powder? There was 1/4 tsp baking powder in the recipe my friend gave me. I agree with the person who said it was rubbery. Baking powder would have helped. But yes, it's not the same a a real chocolate cake. Still, it works if you're really jonesing for some chocolate.

- 6/16/09

This is a good recipe, one that converts rather easily to low-cal or luscious high-cal. I didn't much care for the texture of the microwave version either, but put it into ramekins and baked it for 15-20 min in my toaster oven. MUCH better texture. :-) Thanks for the recipe!

- 7/6/09

I used whole wheat pastry flour, 2 Tbsp sugar and 2 stevia packets, a pinch of baking powder, 1 Tbsp canola + 2 Tbsp fat free yogurt in place of applesauce, and almond milk. I also added 1 tsp of instant coffee. Only microwave for 2 minutes. Fluffy and incredible! Will use for my nutrition class!

- 8/11/09

I'm eager to try this version. A bit of experience about the texture...The original version I tried said microwave 3 min at 1000 watts. I didn't note that and my first "cake" turned into "Styrofoam"! because my oven was 1200 watts. The next time I baked it less time & it was MUCH, much better try it

- 6/16/09

This was great! I did vary the recipe a bit (I used Stevia, light mayo instead of egg, and a dash of baking powder), and served cake with a teaspoon of natural raspberry jam on top. I still give recipe 5 stars because I would have never heard of this idea otherwise.

- 3/29/10

hmmm...i REALLY want to try this! i was an anthro major in college, and learned all about chocolate and how the maya and aztecs used it...so, i think adding a little cayenne and cinnamon would be AMAZING, if you want to try another way of doing this recipe. i'll try it out. :-)

- 6/13/09

Tasted like chocolate rubber. I added 1/4 tsp of baking soda and it tasted more like chocolate cake. I made it again and added a dash of baking powder and a pinch of salt. It turned out ALOT better. I also added some chocolate syrup at the end with out stirring it in to make kindof pike a lava cake.

- 1/20/10

I'm not normally keen on microwave recipes but this was pretty good. The trick to eliminating the rubbery aspect is about an 1/8 tsp if baking powder and making sure to adjust cooking time for your microwave's wattage so you don't overcook it. I will definitely be making this again!

- 1/4/10

I made this as a smaller version, used half the ingredients and used half sugar and half splenda. It was good and will make again. It satisfied by sweet tooth and I felt less guilt about eatting it. My toddler kept saying the hot chocolate cake was good. We added a scoop of fat-free frozen yogurt.

- 6/18/09

Good idea, but poorly executed. Did NOT taste or smell like chocolate-was bitter. I tried it with baking powder and the texture was OK, but not cake-like. I supppose it's fine if you don't care what you eat as long as it somehow resembles chocolate. Too many calories considering the lack of flavor!

- 2/24/10

I enjoyed this recipe - it was filling and hit the spot.

I substituted Splenda for sugar and used a whole egg instead of 2 whites. The cake was maybe slightly rubbery, but nice and soft and warm - it did satisfy my chocolate craving. That said, the chocolate flavor was really mild. Still good!

- 8/15/09

this was absolutely amazing.mine turned out light and fluffy.i mixed all the ingrediets together in a blender to make sure it mixed well. i even added some crushed almonds to my recipe. i didnt have applesauce so i used baking butter probably changed the nutritional facts but it was still yummy.

- 7/15/09

I added 1/4 tsp baking powder, 1 tbs milk chocolate chips and only one egg white. I used no-cal sweetener. It ended up being ok, kinda rubbery. With the chocolate chips it definitely quelled the chocolate beasts' roar. Not exactly cake, more like cocoa wheats brownies. Still pretty yummy!

- 3/4/13

The cake came out like rubber & was very heavy. I immidiately thought it was a waste of time & didn't plan to make it again. Having said that, after having a small class of almond milk with it, it totally fulfilled the cravy for chocolate cake...so I guess it wasn't as bad as I thought.

- 1/24/13

I can't believe how hit-and-miss this is! My husband and I top this with some Bird's custard and pretend that it is sticky toffee pudding. The only thing we did differently is added 1/4 tbs baking soda to each mug instead of eggs. Everything else is the same (and awesome!).

- 10/19/12

Good chocolate cake - eating just 1/2 gave me just the chocolate fix I needed. This is a good recipe for a young beginner cook. It's easy to follow, simple ingredients and fun to watch cooking in the microwave. My 10 year old grandaughter loved making this and wants to make another soon.

- 5/16/12

Thanks very much for the recipe I used the splenda and egg. also added a dash of baking powder as one of the readers reccommended. my hubby is diabetic. He will be surprised when he wakes up and has a cute little individual cake of his very own. Wow it smells so delicious. I hope he will like it!

- 2/15/12