Nutritional Info
Servings Per Recipe: 8
Amount Per Serving

Calories: 181.2
Total Fat:

5.0 g

Cholesterol:

34.9 mg

Sodium:

240.5 mg

Total Carbs:

21.4 g

Dietary Fiber:

4.0 g

Protein:

16.2 g
Report Inappropriate Recipe
Un-stuffed Cabbage
Submitted by: ELAINEHN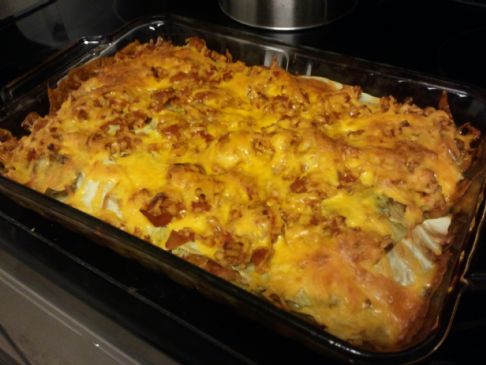 Introduction
Just as tasty as stuffed cabbage leaves without all the extra work!
Just as tasty as stuffed cabbage leaves without all the extra work!
Ingredients
1 lb - extra Lean Ground Beef (or chicken or turkey)




1 cup uncooked Instant Whole Grain Brown Rice




1 Onion chopped




2 cans diced Tomatoes - (no salt added/low sodium preferably)




1/4 cup Ketchup or tomato sauce




1 medium head Cabbage - sliced




1/4 cup reduced fat shredded cheese (optional)
Directions
1. Preheat oven to 375f

2. Brown ground meat with onion in skillet stirring and crumbling the meat as it cooks. Drain well, rinse if desired.

3. While meat browns, cut cabbage into wedges and then slice each wedge to make small, but not tiny, shreds.

4. To cooked meat, add canned tomatoes, ketchup/sauce, uncooked rice, and any other spices or seasonings you wish. You can use the Italian or Mexican style tomatoes to add extra flavor if desired. Allow to simmer briefly. Add water if the mixture seems to need it. The rice will absorbe approximately 1 cup of liquid.

5. Place a layer of cabbage in a large or two small casserole dishes (sprayed with Pam or Olive Oil). Cover the cabbage with a layer of the meat/rice/tomatoe mixture. Repeat layers till all ingredients are used up. Try to end with a meat mixture layer.

6. Sprinkle lightly with cheese if desired.

7. Bake for approximately 45 minutes.

Number of Servings: 8

Recipe submitted by SparkPeople user ELAINEHN.


Great Stories from around the Web
Rate This Recipe
Member Ratings For This Recipe
This recipe is in our regular rotation! I couldn't find it when I was trying to add it to my meal planner (because I forgot the dash) and I was so disappointed! None of the other unstuffed cabbage recipes are like this one. I asked hubs if we should try a different one, he said no way! =)

- 7/18/10

I really liked this. It's like a healthy lasagna!

I used ground turkey breast and the tomato sauce options instead of beef and ketchup.

I didn't shred the cabbage - I cut he head into 8 sections. Added onion powder, garlic powder, cayenne pepper to mixture. Added Worcestershire when cooking turkey

- 8/25/11

The cabbage didn't cook down enough and the rice in the top layer didn't absorb any water. All the moisture ended up at the bottom of the pan. I ended up covering the casserole to trap steam and cooked the dish for an extra 30 min. Tasty though! Next time I'll add marjoram for an extra polish kick.

- 9/18/09

Reply from

ELAINEHN

(9/18/09)

Sorry to hear about the trouble. Did you use INSTANT rice as mentioned in the ingredients? If so, then the 'simmer briefly' should be enough to cook it before layering it. But , if you were using 'regular' rice then it would definitely need to cook longer before being assembled. Good Luck!