Nutritional Info
Servings Per Recipe: 12
Amount Per Serving

Calories: 147.9
Total Fat:

0.2 g

Cholesterol:

0.0 mg

Sodium:

243.1 mg

Total Carbs:

34.6 g

Dietary Fiber:

0.4 g

Protein:

3.1 g
Report Inappropriate Recipe
Pineapple Angel Food Cake
Submitted by: DOCKERYLB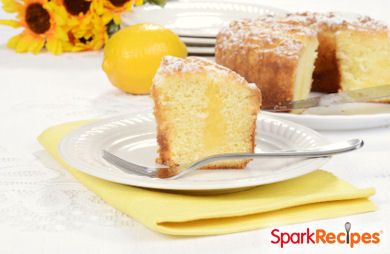 Introduction
Gread dessert
Gread dessert
Ingredients
1 box (1-step) angel food cake mix




1 large can crushed pineapple
Directions
Put dry cake mix in bowl (do not add the water as directed on the box). Add entire can of pineapple with juice. Mix carefully until all dry mix in incorporated. Pour into either a tube pan, 9x13 pan, or cupcake pan with liners. Bake at 350 degrees for time on box for size pan (around 30-40 minutes. When sides pull away from pan and toothpick, cake is done.

Can also use low calorie cherry, blueberry, or lemon canned pie filling instead of pineapple.


Number of Servings: 12

Recipe submitted by SparkPeople user DOCKERYLB.


Rate This Recipe
Member Ratings For This Recipe
This was so easy and so yummy. Had it for a birthday with reddi whip and light vanilla ice cream and there were no leftovers. Serving size is very generous and satisfying. I used a 9 x 13 glass pan sprayed with butter non stick and only needed 25-30 min and was perfectly cooked.

- 5/6/09

Delish! I made the cake and used a container of fat free coolwhip with an envelope of SF FF cheesecake instant pudding; mixed with coolwhip and covered over the top of the cake... went to a birthday party and did not feel left out as I brought my own piece and gave the recipe and site out to many.

- 6/20/10

This is the second time making this cake, first time with Lemon Pie Filling, this time using crushed pineapple. Both were very good, but the texture of the pineapple one was better. Who knew something this simple could be so delicious! Will try the other flavor pie fillings soon.

- 4/25/13

I made this this evening using pineapple canned in natural juice and it was delicious! It tasted like a light version of pineapple upside-down cake and was rich enough that it didn't need any kind of topping. My husband, who doesn't like any kind of "healthy" dessert, absolutely loved it as well.

- 4/21/13

I made this by directions: However, after cooling it fell flat in the center. I cooked it until the cake pulled from the sides of the pan. It tested in the center with a cake tester. It fell flat in the center when cool. What did I do wrong? However, it was delicious.

- 4/9/13

I made this cake just how the directions said but it overflowed from the pan is there something I can do different to make it not overflow or does it just do that on its own It still tasted great it just overflowed from the pan and made a mess If anybody could let me know I would really appreciate

- 3/29/13

I have been doing this for years. Got the recipe from a Weight Watchers instructor. I usually do it in a sheet pan so it is easier to cut smaller pieces. I have also used canned peaches. I dice the peaches and adjust the juice. When using a sheet pan the cake will fall some. Drizzle with choc.

- 3/3/12

When we mixed the cherry pie filling with the angel mix, it shocked us by puffing up like flubber! It tasted tart and almost fizzy. I have never seen cake do that! Noone here mentioned that! is it supposed to do that?? It also got tart and slightly fizzy? Like a science experiment.. thanks!

- 3/21/11

DOH! Do not invert cake to cool on a coke bottle like you do when you make an angel food cake with no heavy pineapple...it WILL fall out. But it is still so good, even when ugly. Next time, I'll just set the pan on its side or raise up the bottom to cool. This was so good & just what I was craving!

- 2/5/11

I just made this cake and I loved it. I am not a big fan of Angel cake but I love pineapple so it was just right.I didn't even think about the fact that I was eating Angel Food. My Husband liked it too. Thanks for the great recipe as I love my sweets and this is just right so I don't feel guilty.

- 7/25/10