Nutritional Info
Servings Per Recipe: 6
Amount Per Serving
Calories:

382.1
Total Fat:

14.7 g

Cholesterol:

61.1 mg

Sodium:

1,283.4 mg

Total Carbs:

37.0 g

Dietary Fiber:

4.0 g

Protein:

23.9 g
Report Inappropriate Recipe
Missy's Left Over Turkey & Noodle Dish
Submitted by: TEDDYBEAR662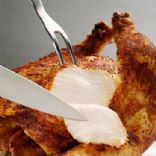 Introduction
Something to do with those leftovers at Thanksgiving or whenever. :-)
Something to do with those leftovers at Thanksgiving or whenever. :-)
Ingredients
1 & 1/2 cups of Egg Noodles (or whatever pasta you want)





1 can (10.5 oz.) Hannaford 98% Fat Free Cream Of Chicken Condensed Soup (do not add the water)





2 cups of diced up turkey meat (or chicken), already cooked





make your favorite Stuffing (to the directions). I used Pepperidge Farm Herb Seasoning Stuffing. I made the 4 servings amount.





About 1/2 cup of Mozzarella cheese, shredded





Directions
* Cook your egg noodles. (about 8 minutes. You'll need to save about a cup of your pasta water)

* While that is cooking, make your stuffing, cut the turkey meat, & shred your mozzarella cheese.

* When the noodles are done, add the can of condensed cream of chicken soup. Add the pasta water, & cut up turkey meat. Stir all together.

* Add the schredded cheese on top and then the stuffing.

* Put in oven to melt the cheese and crisp up the stuffing on top. I did it at 350 degrees for about 15 - 20 minutes.

Made about 6, 1 cup, servings.

Number of Servings: 6

Recipe submitted by SparkPeople user TEDDYBEAR662.


Great Stories from around the Web
Rate This Recipe