Nutritional Info
Servings Per Recipe: 8
Amount Per Serving
Calories:

0.0
Total Fat:

0.0 g

Cholesterol:

0.0 mg

Sodium:

0.0 mg

Total Carbs:

0.0 g

Dietary Fiber:

0.0 g

Protein:

0.0 g
Report Inappropriate Recipe
Baked Burrito
Submitted by: SPARKGIRL70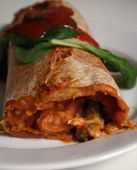 Introduction
Serve with lettuce and tomatoes. These burritos freeze well on bakin sheets or in baking dishes. Yield: 8-8ounces
Serve with lettuce and tomatoes. These burritos freeze well on bakin sheets or in baking dishes. Yield: 8-8ounces
Ingredients
1 pound lean ground turkey




4 ounces part-skim American cheese




┬╝ cup chopped scallions




8 10-inch flour tortillas





Mexican Sauce:




8 ounces ( no-added-salt) tomatoe sauce




┬╝ teaspoon garlic powder




┬Ż teaspoon cumin




┬Ż teaspoon dried jalape├▒o peppers




1 tablespoon lem├▓n juice




1 tablespoon sugar
SparkPeople Sponsored Video
Directions
Preheat oven to 350┬║F. Brown and drain the ground turkey. Meanwhile, shred the cheese and chop the scallions. Mix the sauce ingredients together and pour over drained turkey, stirring to mix. Place ┬Ż cup turkey mixture in each tortilla; Fold and place seam side down on a baking sheet. Top with cheese and scallions. Bake 15 minutes.

Number of Servings: 8

Recipe submitted by SparkPeople user SPARKGIRL70.


Great Stories from around the Web
Rate This Recipe
Member Ratings For This Recipe