Nutritional Info
Servings Per Recipe: 8
Amount Per Serving

Calories: 56.1
Total Fat:

4.8 g

Cholesterol:

12.6 mg

Sodium:

137.1 mg

Total Carbs:

0.5 g

Dietary Fiber:

0.1 g

Protein:

2.9 g
Report Inappropriate Recipe
ZUCCHINI GRATIN
Submitted by: JILLYBEAN1965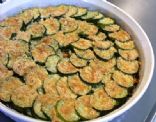 Introduction
delicious and LOW Cal AND LOW CARB !!
delicious and LOW Cal AND LOW CARB !!
Ingredients



2 pounds zucchini, sliced in 1/4-inch thick rounds, about 4 medium




Salt and pepper




1/2 cup freshly grated parmesan cheese, 2 ounces




2 tablespoons butter, melted




Directions
Butter a 10-inch pie plate or quiche pan. Put the sliced zucchini in a medium pot and cover with water. Bring to a boil and cook for 2 minutes; drain and rinse with cold water to stop the cooking. Arrange the zucchini in the pie plate in an overlapping circular pattern. Season with salt and pepper between the layers. Top with the parmesan cheese and drizzle with the melted butter. Bake at 400ΒΊ for 30 minutes, then bake at 475ΒΊ for another 10 minutes until golden brown.

Makes 8 servings
Can be frozen

Per Serving: 73 Calories; 5g Fat; 4g Protein; 3g Carbohydrate; 1g Dietary Fiber; 2g Net Carbs


Number of Servings: 8

Recipe submitted by SparkPeople user JILLYBEAN1965.


Rate This Recipe
Member Ratings For This Recipe