Nutritional Info
Servings Per Recipe: 2
Amount Per Serving
Calories:

281.3
Total Fat:

6.4 g

Cholesterol:

29.7 mg

Sodium:

794.1 mg

Total Carbs:

33.0 g

Dietary Fiber:

6.8 g

Protein:

24.5 g
Report Inappropriate Recipe
Dan's Mini-Pizzas
Submitted by: CHOWDA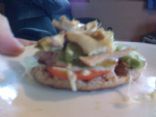 Introduction
Quick, easy and healthy litle pizzas
Quick, easy and healthy litle pizzas
Ingredients
* Whole Wheat English Muffin, 2 muffins




* *Kraft Mozzarella, Fat Free, 0.5 cup




* Red Ripe Tomatoes, 84 grams




* Avocados, California (Haas), 56 grams




* Chicken Breast, no skin, 3 ounces
Directions
Makes 4 pizzas for 2 servings.

Split muffins
toast very lightly
add tomato slices
add cheese
add avocado wedges
add chicken
broil or toast until cheese melts
eat!

Number of Servings: 2

Recipe submitted by SparkPeople user CHOWDA.


Great Stories from around the Web
Rate This Recipe
Member Ratings For This Recipe
the avocado and chicken went really well together.I'd never have thought to add them together.Very tasty.

- 12/16/08

Reply from

CHOWDA

(12/16/08)

Avocado and bacon make everything better... alot more avocado than bacon these days :)

Thanks for the review!