Nutritional Info
Servings Per Recipe: 4
Amount Per Serving
Calories:

55.6
Total Fat:

0.2 g

Cholesterol:

0.0 mg

Sodium:

267.8 mg

Total Carbs:

12.8 g

Dietary Fiber:

1.2 g

Protein:

1.1 g
Report Inappropriate Recipe
Mild Thai Cucumber Salad
Submitted by: L.R.N.L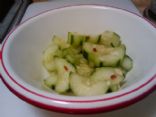 Introduction
Not too tangy, not to spicy, peanut free cucumber salad.
Not too tangy, not to spicy, peanut free cucumber salad.
Ingredients
2 large Cucumbers sliced 1" thick and in half (or 3 medium cucumbers)




½ cup hot water




2 tbs seasoned rice vinegar




¼ tsp hot pepper flakes




¼ cup diced or minced red onions




2 tbsp Raw Cane Sugar



SparkPeople Sponsored Video
Directions
Peel cucumbers completely if they are not organic or if you just don't want the peel. I use a peeler and leave decorative strips of green around the cucumber before slicing.

In a medium bowl (preferable one that has a cover), dissolve 2 tablespoons of Turbinado or brown sugar in ¼ cup hot water. Stir repeatedly or allow to sit until completely dissolved. Stir in hot pepper flakes, vinegar and red onions. Add cucumber slices. Cover bowl and agitate so that liquid covers all cucumber pieces.

Place in refrigerator and allow to cool and marinate for at least 5 to 10 minutes before serving. Shake container before serving to distribute flavor to each cucumber piece.

Makes four ½ cup servings.

Number of Servings: 4

Recipe submitted by SparkPeople user BLUETEMPLE.


Great Stories from around the Web
Rate This Recipe
Member Ratings For This Recipe