Nutritional Info
Servings Per Recipe: 6
Amount Per Serving
Calories:

305.8
Total Fat:

8.4 g

Cholesterol:

8.3 mg

Sodium:

842.0 mg

Total Carbs:

33.0 g

Dietary Fiber:

0.2 g

Protein:

24.4 g
Report Inappropriate Recipe
Garlic Chicken Barbecue Pizza
Submitted by: SNEVIL1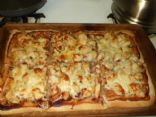 Introduction
Inspired by my favorite Lean Cuisine meal. This pizza is FABULOUS and is so quick and easy to make.
Inspired by my favorite Lean Cuisine meal. This pizza is FABULOUS and is so quick and easy to make.
Ingredients
-1 Pillsbury Pizza Crust




-8 boneless skinless chicken tenderloins (about 1.5 lbs)




-1/2 onion




-1 tablespoon canola oil




-1/2 tsp garlic




-2 tablespoons KC Masterpiece Low Calorie Classic Blend Barbecue Sauce




-1.25 cup Reduced Fat 4 Italian Cheese Blend




-Salt, Pepper, or McCormick's Garlic Pepper grinder (optional)
Directions
-Spread the pizza crust out on a 9x13 rectangular baking sheet.
-Cook the dough at 400 degrees for 8 minutes.
-Chop the onion and cut the chicken into small cubes. Add to a pan with oil and garlic. Season as desired (I like McCormick's Garlic Pepper Grinder). Cook until no traces of pink remain in the chicken.
-Spread the barbecue sauce thinly on the pizza crust. Spread the chicken and onion mixture onto the crust and top with cheese.
-Bake for an additional 10-15 minutes, or until the crust is golden brown.
-Enjoy:)

Serves 6

Number of Servings: 6

Recipe submitted by SparkPeople user SNEVIL1.


Great Stories from around the Web
Rate This Recipe
Member Ratings For This Recipe
Delicious and easy! I love the garlic flavor with the bbq sauce. I used 1 lb of chicken breasts because it was all I had. Added a little garlic powder to the chicken mixture for some added garlic taste. Yummmm. :) Keep an eye on the crust because it's easy to overbake.

- 6/13/09

Loved it. It was easy, quick, and very tasty. I baked the crust for 8min @ 425, I used natures seasoning & garlic pepper on the chicken, I also added about 1-2T of bbq sauce to the chicken to lightly coat b4 adding to the crust. I added a little more bbq sauce to the crust. baked 7min more 350. A+

- 3/15/12

sounds great, but I would have to reduce the sodium. any suggestions?

- 6/23/09

Reply from

SNEVIL1

(6/23/09)

I think the cheese and the pizza crust are the 2 biggest culprits. You could look for lower sodium cheese or you could make your own crust finding a low sodium recipe. Good luck!