Nutritional Info
Servings Per Recipe: 6
Amount Per Serving

Calories: 330.0
Total Fat:

1.1 g

Cholesterol:

45.0 mg

Sodium:

471.0 mg

Total Carbs:

57.9 g

Dietary Fiber:

3.9 g

Protein:

21.5 g
Report Inappropriate Recipe
Hawaiian Chicken Stir Fry
Submitted by: APRILZ42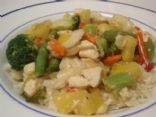 Introduction
A great twist on your everday Chicken Stir Fry. Even the kids will love it!
A great twist on your everday Chicken Stir Fry. Even the kids will love it!
Ingredients
1 T. Corn Starch (14 grams)




2 T. Soy Sauce*




2 c.. Pineapple in 100% juice - reserve juice




1 tsp. Chicken Boullion*




3/4 c. Frozen Snap Peas




10 oz. Frozen Stir Fry Veggies




3 - 4.8 oz. Chicken Breasts, cubed




1.5 c. Whole Grain Brown Rice, uncooked
Directions
Makes 6 Servings
1 SERVING = 3/4 c. cooked rice & 1 c. stir fry
---------------------------------------------------------
RICE**
1. In saucepan, bring 3 1/2 c. water to boil.
2. Stir in 1.5 c. brown rice
3. Cover. Reduce heat and simmer for 45 mn. or until all water is absorbed.
---------------------------------------------------------
STIR FRY
1. Cube chicken breasts and brown in non-stick frying pan with cooking spray if needed.
2. Mix cornstarch, soy sauce, bouillion, and 1 c. pineapple juice (add enough water to reserved pineapple juice to make 1 cup)*
3. Pour juice mixture over chicken
4. Stir in frozen vegetables
5. Cook until vegetables are done and juice is thickened
6. Add pineapple and cook for about 3 more minutes (or until pineapple is hot)
7. Serve over 3/4 c. brown rice
---------------------------------------------------------
Note:
*Reduce the sodium by using low sodium Soy Sauce and low sodium Chicken Boullion.
**Rice cooking directions are for the Mahatma brand of whole grain brown rice. Other brands may vary slightly. Follow package directions for cooking if using other brands.

Number of Servings: 6

Recipe submitted by SparkPeople user APRILZ42.


Rate This Recipe
Member Ratings For This Recipe
I wish the sauce was more flavorful....the pineapple juice didn't shine through :/ maybe my pineapples were duds...? i almost wanted to add sugar to make it sweeter.

- 2/10/09

Reply from

APRILZ42

(2/11/09)

I use the Dole Golden Pineapple (from Costco) it is ripened longer than the usual canned pineapple and tastes REALLY close to fresh pineapple. It's quite a bit sweeter and much more flavorful. I highly recommend it. Especially for this dish.

I've made a similar dish, except I don't usually measure, I just throw in, usually more vegies than meat. The other day, I added an apple without skin and juliened mango...no one ever knew..and wanted more

I usually let everyone add soy sauce at the end.

This time I toasted red pepper flakes/garl

- 2/8/09

Will make it soon. When do you put the pineapple?

- 2/7/09

Reply from

APRILZ42

(2/8/09)

Sorry I left that out. It's now Step #6 under the Stir Fry portion of the recipe. Add the pineapple a few minutes before the veggies are done. Just enough to get it hot.