Nutritional Info
Servings Per Recipe: 10
Amount Per Serving

Calories: 76.3
Total Fat:

0.2 g

Cholesterol:

0.0 mg

Sodium:

19.5 mg

Total Carbs:

18.0 g

Dietary Fiber:

0.6 g

Protein:

0.6 g
Report Inappropriate Recipe
Mock Sangria
Submitted by: LASTCHANCE651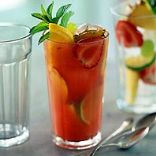 Introduction
WW Point Value per Serving: 2
WW Point Value per Serving: 2
Ingredients
2 cup(s) orange juice




1 cup(s) grape juice, white, unsweetened




1 cup(s) cranberry juice, low-calorie




1 liter(s) lemon-lime soda, diet




ice cubes




2 cup(s) assorted fresh fruit (such as oranges, cut into wedges; thinly sliced and halved lemons and/or limes; pineapple wedges; seedless red or green grapes; sliced, peeled and pitted peaches; and halved strawberries)




* sprig(s) mint, fresh



Directions
Preparation
1. In a large bowl or pitcher, stir together chilled orange juice, white grape juice, and cranberry juice.

2. Add the lemon-lime beverage; stir gently. Fill each of 10 glasses about two-thirds full with ice. Divide fruit among glasses. Pour juice mixture into glasses. Garnish with fresh mint sprigs.


Number of Servings: 10

Recipe submitted by SparkPeople user LASTCHANCE651.


Great Stories from around the Web
Rate This Recipe