Nutritional Info
Servings Per Recipe: 8
Amount Per Serving
Calories:

216.4
Total Fat:

6.6 g

Cholesterol:

12.6 mg

Sodium:

339.0 mg

Total Carbs:

29.7 g

Dietary Fiber:

2.1 g

Protein:

9.4 g
Report Inappropriate Recipe
Pesto Spinach Tomato Pizza
Submitted by: REDWITCH78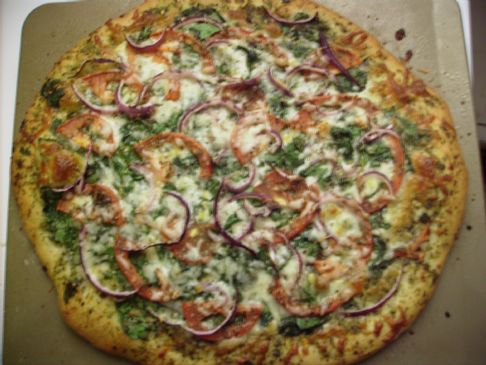 Introduction
Great pizza, I love the bread.
Great pizza, I love the bread.
Ingredients
Dough:





1-3/4 cups of All Purpose flour




1 teaspoon quick rise yeast




1 dash salt




2 teaspoon sugar




1 teaspoon baking soda




1 teaspoon of paprika




1/4 cup fat free plain yogurt




1/2 cup lukewarm water





1/4 cup All Purpose flour for rolling





Topping:





1 cup of fresh spinach




2 tbs of chopped garlic




1 cup of mozzarella cheese




1 cup of tomatoes




1/4 cup of onions




1 tbs of Italian season or oregano




1/4 cup pesto sauce




salt, black and red pepper to taste
SparkPeople Sponsored Video
Directions
1. Dissolve yeast in warm water and sugar.
2. Add salt, paprika and baking soda to the flour and mix well.
3. Add yogurt to mix, this will become crumbly dough.
4. Add the water/yeast mixture and mix.
5. Knead into soft dough. Add extra flour if dough is to wet.
6. Cover the dough and keep in a warm place for about 45 min to let dough rise.
7. Heat the oven to 350 degrees, pre-heat baking sheet for at least thirty minutes.
8. Knead the dough for another 2 to 3 minutes and roll into 12in dia circle.
9. Spray baking sheet with Pam, place pizza dough on baking sheet.
10. Spread pesto sauce evenly ontop of dough. Next spread 3/4 of Mozzerala cheese evenly.
11. Mix spinach with garlic, place onto of dough followed by tomatoes and onions. Sprinkle remaining cheese, and seasonings.

Optional: Sprinkle a little bit of garlic powder on top.

12. Bake at 350 degrees for 20 to 30 min. until edges turn light brown.

Makes 8 servings

Number of Servings: 8

Recipe submitted by SparkPeople user REDWITCH78.


Great Stories from around the Web
Rate This Recipe