Nutritional Info
Servings Per Recipe: 1
Amount Per Serving

Calories: 643.2
Total Fat:

33.2 g

Cholesterol:

21.0 mg

Sodium:

611.0 mg

Total Carbs:

76.7 g

Dietary Fiber:

12.4 g

Protein:

19.7 g
Report Inappropriate Recipe
pastry houses
Submitted by: SEXYBANDIT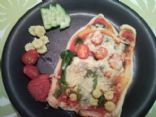 Introduction
fun meal for children but adults love it too! get the kids to make their own- encourages eating vegetables but can include meats
fun meal for children but adults love it too! get the kids to make their own- encourages eating vegetables but can include meats
Ingredients
to serve 4;




some rolled out puff pastry, x 1




canned tomatoes, x 1




cheddar cheese, x a large pinch per serving,




spinach, x 2 cups of fresh leaves




you own choice of vegetables, x as much as you like!




reciepe could also include chicken/tuna etc...
Directions
PREP:
drain the tomatoes then blend using a small blender.
blend the spinach or finely chop
cut/chop and boil if needed a selection of vegetables.- i choose cherry tomatoes (halved for windows, chopped peppers for (for a door) a bit of broccolli (for trees) baby-corn (chopped to look like flowers) and i use other veg like courgette or carrot to decorate the roof.
Pre-heat the oven- 200'c
COOKING:
ok the puff pastry should be cut into house shapes approximatly the size of a CD case. then use the extra pastry to cut thin stips which you place around the outer edge of the house (just so you have no spills)
now the kids can do their thing- spoon 2 teaspoons of the tomatoes on to the pastry and spread,
repeat action with one teaspoon of spinach.
sprinkle a pinch (or two) of the cheddar.
now decorate using the vegetables to make windows,doors, plants etc....
cook in the oven for 20-25 mins or untill the pastry is golden.

This reciepe could be used to make other shaped things for example cut the pastry in to a man shape using a ginger-bread man cutter, then use the vegetables for clothes and face etc... i've also made mini star shaped versions for a childrens party favour- they went down a storm.
Im a nanny and make these often when we have playdates- kids REALLY love them! -im always guarenteed clean plates!

Number of Servings: 1

Recipe submitted by SparkPeople user SEXYBANDIT.


Rate This Recipe