Nutritional Info
Servings Per Recipe: 12
Amount Per Serving
Calories:

239.6
Total Fat:

13.6 g

Cholesterol:

39.9 mg

Sodium:

524.5 mg

Total Carbs:

17.4 g

Dietary Fiber:

1.7 g

Protein:

16.7 g
Report Inappropriate Recipe
Mama Joy's Lasagna
Submitted by: JDAVIS81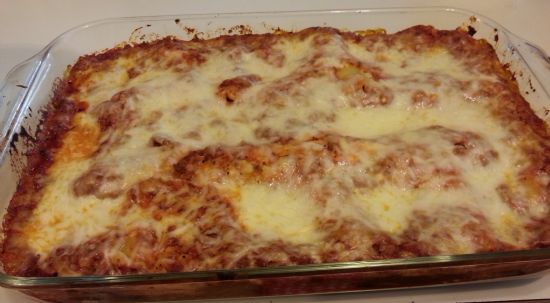 Introduction
My mom taught me how to make this, and I altered the recipe to my family's liking!
My mom taught me how to make this, and I altered the recipe to my family's liking!
Ingredients
Hunts Spaghetti Sauce (2 cans)




Italian Sausage (ground - 1 lb)




Lasagna Noodles (12 noodles)




Fat-Free Ricotta Cheese (15 oz)




Mozzarella Cheese (16 oz)




Garlic (1 clove, chopped)




Onion Powder (1 tsp)




Basil Leaves (1 Tbsp, ground)




Oregano (ground, 1 tsp)
SparkPeople Sponsored Video
Directions
Slow-Cooker Sauce:
Pour two cans of Hunts spaghetti sauce into crockpot/slow cooker
Add Garlic, Onion Powder, Basil, and Oregano
Put slow-cooker on low and let sauce cook for about 4 hours
In last hour add browned italian sausage to sauce

Regular Sauce:
Mix sauce and spices in pot on stove on medium-high heat for about 15 minutes
Brown italian sausage, then add to sauce

Bring large pot of water to rolling boil, then add lasagna noodles one at a time
Let noodles boil for about 10-15 minutes
Strain noodles and rinse under cold water until they don't burn fingers when touched

Put a thin layer of sauce in bottom of glass lasagna pan
Layer 3 noodles, spread approx. 1/2 cup sauce over noodles, put total of 9 Tbsp Ricotta cheese on each layer, top each layer with mozzarella cheese, sparing more cheese for final layer
Cover with aluminum foil, and bake in 400 degree oven for 20 minutes
Uncover lasagna and continue baking for another 10 minutes
Remove lasagna from oven and let sit for 10 minutes before serving
Best with a green vegetable and garlic bread!

Number of Servings: 12

Recipe submitted by SparkPeople user JOYBEE81.


Great Stories from around the Web
Rate This Recipe
Member Ratings For This Recipe
This was my first lasagna ever and it was SO easy and delicious!! I let the sauce simmer in the crock pot as instructed (used 2 cloves garlic instead) and it was just incredible. I would use a little more ricotta. Tried the 9 tbsp idea and ended up short on the last layer. Otherwise fantastic!!

- 7/9/11

Made for celebration dinner at work. Cut down on the ricotta and used low mozzarella. Otherwise followed recipe for one pan. Added diced bell pepper and 1/4 onion to the top layer of the second one. Both were well received and I am planning to make it again for the next family gathering.

- 3/4/11

We just finished eating this lasagna and man was it good! I told my husband it was healthy too and he said it tasted as good as any regular lasagna he has had. He is the cook of the house so coming from him, that is saying a lot! I added a little more garlic but other than that, no changes!

- 2/21/10

Delicious! Made it for dinner last night w/2 pounds of Italian sausage and part skim ricotta which bumped up calories per piece to 314. Will definitely make this again. My family LOVED it. Also used 2 -26 oz cans of Hunts zesty spicy sauce. Highly recommend.

- 1/29/10